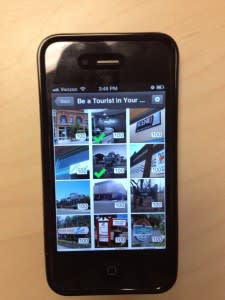 We are super excited to add a new component to Be A Tourist In Your Own Town this year. Its called the Be A Tourist Check-In Challenge and its a scavenger hunt via an app that you can download to your mobile phone. Its all happening on Saturday June 1st. Download the Pointillism app and get ready to see the photo hints, find the corresponding attractions and check-in to win 100 points per place. There are 70+ check-in spots so it should keep you hopping. Dont forget to activate the GPS on your phone! The game begins at 10 a.m. and ends at 5 p.m. that day. Once all the scores are submitted and tallied, prizes will be awarded to the top-three participants. In case of a tie, we will be drawing the winners. We will be announcing the winners on Monday, June 3rd. Prizes include a Lansing area overnight stay, $50 VISA gift card and a $25 gift certificate to Buffalo Wild Wings in East Lansing.
Ive previewed this and have to tell you that the photos are good and if you know your stuff, theyre pretty easy to figure out. But you have to be fast and strategic. Is that you? Do you know your Greater Lansing stuff? Then take the challenge. You might just be a winner. Well, actually I think youre a winner for just doing this. Its promising to be really fun and a great new option in the Be A Tourist line-up.
Hey, by the way, Be A Tourist is not just for Lansing residents. Everyone can experience this one day when Greater Lansing rolls out the carpet and invites you to see all that it offers to visitors. Seriously, sometimes you dont know what you have in your own backyard until a visitor comes and points it out to you. Discover something new, or rediscover something youve forgotten about. Its all in Greater Lansings Be A Tourist In Your Own Town. This Saturday, June 1st from 10 a.m-5 p.m. www.lansing.org/batyot.