Be A Tourist In Your Own Town is coming up Saturday, June 4th from 10 a.m. to 5 p.m. Purchase a 'passport' for one dollar and get to see over 80 Greater Lansing attractions. It's a fun day for residents and visitors alike. So grab the kids, family, your best buddies or even a date and plan to spend the day discovering Michigan's capital city!!!
Five Routes to Ride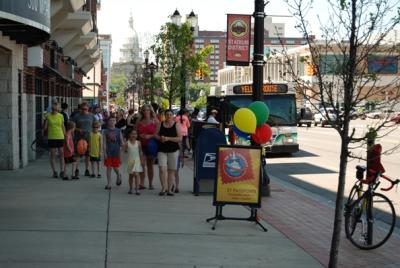 All the bus routes meet up in the block on East Michigan Avenue in front of Cooley Law School Stadium. You can get on and off the busses anytime between 10 a.m. and 5 p.m. Look for the colorful balloons at designated stops. There's a handy dandy map right in the passport.
Red (Downtown Lansing)
Yellow (Old Town)
Blue (REO Town and beyond)
Purple (Potter Park Zoo express)
Green+ (East Lansing and Michigan State University)
Five Reasons to Attend
Cheap. Heck, its one dollar. Kids three and under are free.
Fun. Everyone's in a good mood and out to have a fun day. Be patient and be kind.
One-Day-Only Stuff. Don't miss the places that aren't normally open to the public.
Sneak peek at all 150+ things to do. You can't possibly hit up all 80+ things to do, but it'll give you some great ideas when you're asked, "What's there to do around here?"
Makes You a Lansing Ambassador. You've seen all the stuff to do. You are now the expert. Spread your knowledge around.
Five New Places to Visit
Check out the passport for these places and get there.
WLNS-TV 6 – Stand in as the weather person and tour the studio.
Old Nation Brewing Company – New brewery in Williamston. Free tours.
Central United Methodist Church – Check out the carillon (bell tower) and the bowling alley in the basement.
NCG Eastwood Cinema – Free ½ hr Looney Toon show.
Ellison Brewery – East Lansing's newest brewery. $1 beer samples.
Five Places Off the Beaten Path
Lansing Model Railroad Club
Mt. Hope Cemetery
Greater Lansing Potters' Guild
Eaton County's Museum at Courthouse Square (Charlotte)
Five Places that are normally not open to the public
WLNS-TV 6
BW&L John Dye Water Conditioning Plant
LCC-TV and LCC Radio
Central United Methodist Church
Lansing Central Fire Station
Five Other Things Happening That Day
Model T car rides at the Michigan Historical Museum ($5 donation)
Riverbank Traditional Pow Wow at Adado Riverfront Park
Knockerball Lansing on the lawn of the Capitol
Chalk of the Town in Old Town
Lansing Lugnuts game in the evening followed up by fireworks display
For more information about ALL the attractions, the bus information and more visit www.lansing.org/batyot.
Did you know that Greater Lansing offers over 150 things to do? With only 48 hours in a weekend, the clock is ticking. Download the LAN150 Bucket List to get started.