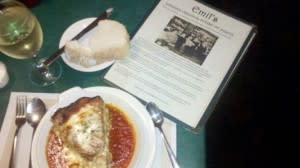 If youre looking for an authentic family-owned and operated Italian restaurant, then Ive got the place for you. Emils on Michigan Ave. is the oldest restaurant in Lansing and has been serving home-cooked Italian fare since before the time of Al Capone. In fact, the story goes, that notorious mobster of days past was known to stop into Emils during prohibition times on his way from Windsor (my hometown) to Chicago with a cargo of bootleg hootch. So if it was good enough for Al, its got my vote to give it a whirl.
When Im craving Italian, I always seem to go for the lasagna. But it was Thursday and I was advised to try the Pasta Pie. Only on Thursdays, Al (his last name is not Capone) heads into the kitchen and makes up a pan of lip-smacking delicious-ness. Its not on the menu, so Im giving you this insiders scoop. Go on Thursday and order the pasta pie. I had all intentions of saving a portion to bring for lunch today because they set down a very generous wedge before me. But I have to tell you that I did not stop eating the pasta (mixed with ground beef, sausage and cheese) concoction until it was all gone. Did I have to unbutton my pants on the ride home? You betcha. Oh, but it was soooo worth it.
Now dont expect one of todays fancy-pants chain Italian places when you go to Emils. This joint reminds me of my favorite neighborhood restaurant in New Jersey where the wait staff can be sassy and non-committal all at the same time and appreciate that you are there to eat, not to be entertained. I happened to sit next to a lovely couple who stated that they had been going to Emils since the late 1950s when Emil himself was there. And they even asked me what it was that I ordered. Like I was a regular. Which I will be. On Thursdays. For the pasta pie.