If you are familiar with Greater Lansing at all you know that the artsy/cultural hub of the region is warmly referred to as "Old Town." Here you'll find lots of neat galleries and one-of-a-kind, unique to the area businesses selling everything from popcorn to tattoos to lavender soap or a cocktail dress. Old Town, truthfully, is a lot like Lansing, a lot of a little and it just plain flat out feels comfortable, friendly and...Well, home. The holiday season is no different, especially when so many cool holiday events are going on. This Saturday, December 7th is the time to celebrate the holidays in Old Town as the Old Town Dickens Village (and a couple off-shoot events affiliated with it) comes back to the streets of Old Town Lansing, specifically Turner and Grand River.
First is the 7th Annual Scrooge Scramble 5k Run/Walk on the Lansing River Trail to benefit the Old Town Dickens Village. Who doesn't want to 'Bah Humbug' their way down the Lansing River Trail and try to improve your good cheer and your run time from last year? Hey, its worth a shot.
Then another fun thing to do is the Dickens Tea at the Turner-Dodge House. This building is classic Lansing at its best and offers a unique Victorian era setting perfect for a fancy Christmas tea and a few cookies too. Spots for this fill up quick, so make reservations at 517-483-4220.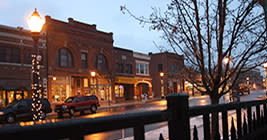 Lastly of course you've got to check out the Old Town Dickens Village. On Dec. 7, from noon until 5 p.m., free family friendly activities will be taking place throughout Old Town streets and shops. Get a picture taken with Santa Claus, take a ride in a horse-drawn carriage, make ornaments, decorate a cookie, and listen to live holiday music during this event. Carolers and characters will also roam the streets spreading holiday cheer throughout the town. Bring your friends and family, you don't want to miss this festive event!
New this year! Artisan Market at the Old Town Marquee.
**The Artisan Market will open at 10 a.m.**
Featuring:
Children's Activities
Showcase of variety of propriety available in Old Town
Live Music
Silent auction of Dickens Christmas tree
Juried Art Show
Old Town is a great area of Lansing and the holidays are an awesome time to check out Lansing Old Town. The Dickens Village is one of the coolest holiday things to do around town. Scoop up your Tiny Tim and head over to check out all the activities!
The Old Town Commercial Association will host its 7th annual Scrooge Scramble 5K Run/Walk on the Lansing River Trail to benefit Dickens Village December 07, 2013 - December 07, 2013 Venue: Old Town Commercial Association Times: 10 a.m. Admission: See website for information 517-485-4283
Dickens Tea December 07, 2013 - December 07, 2013 Venue: Turner-Dodge House and Heritage Center Address: 100 E. North St., Lansing, MI 48906 Times: 3 p.m. 517-483-4220
Old Town Dickens Village December 07, 2013 - December 07, 2013 Venue: Old Town Lansing Times: From: 12:00 PM to 5:00 PM Admission: FREE 517-485-4283