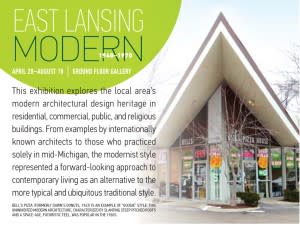 I've had a life-long love affair with architecture and have been fortunate enough to live in some sweet digs. From an apartment carved out of a re-purposed red brick Georgian-style former funeral home, to a sweet sunny bungalow overlooking the Delaware River, to a grand Victorian complete with front and back staircases. Currently Im pleased to be living in a renovated Craftsman Duplex. I have such great respect for the era craftsmanship and attention to detail that make each of these periods and styles of architecture so interesting and amazing. But what I have long admired, but never had the pleasure of living in, is the Mid-Century Modern home. Think Brady Bunch house minus the Astro Turf backyard. Or somewhere Don Draper might live. Split level or ranch, open style, floating staircases, avocado green and harvest gold appliances, Formicacounter topsand shag carpet. Just add a martini pitcher and a pair of Eames chairs and its the hippest place in the neighborhood.
So Im thrilled that the MSU Museum has a new exhibit East Lansing Modern 1940-1970 running through August 18, 2013 plus an added bonus of a bike/car tour so you can see for yourself some great examples. For all your architecture fans, East Lansing possesses a great number of very interesting modern style places - commercial, religious and residential.
East Lansing Modern exhibit: http://museum.msu.edu/?q=node/987
East Lansing Modern Driving/Biking Tour: http://michiganmodern.files.wordpress.com/2011/09/michigan-modern-east-lansing-modern-tour.pdf
Upcoming programs to check out:
Tuesday, May 14, 5 p.m.
Film screening: East Lansing: The City We Know,30-minute documentary on the history of the city; followed by exhibition tour
Saturday, June 9, 2 - 3:30 p.m.
Workshop: How to Research Your Home,led by Whitney Miller, University Archivist at MSU and author of East Lansing, Collegeville Revisited.
Also in the works(more details to come soon):
Thursday, July 18, 5:30 8 p.m.
"Twilight with Frank Lloyd Wright:Goetsch-Winckler House,"a chance to visit the famed Frank Lloyd Wright-designed Goetsch-Winckler House in Okemos; fundraiser for the Michigan State University Museum, the science and culture museum at MSU; space is limited.
From WKAR-Radio:
Listen to a profile fromWKAR Public Media about the "East Lansing Modern" projectas it was getting under way in Fall 2012.