There really is something great about a surprise. When something awesome just comes out of the blue and brightens your day somehow it's always an experience to remember. A lot of things are set up this way.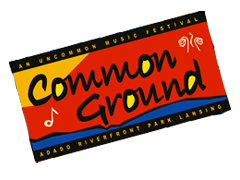 It's likea pinata. You give it a hearty whack and you hope that what comes out is a bunch of your favorite things. Or how about when you blindly grab a chocolate candy out of the box? You take a bite not knowing what it is and when it IS something you like you immediately thrust your fist upward and do devil horns or something to show any on-lookers that your selection totally rocked. Are you seeing my point? A surprise is sometimes better than knowing because you're jumping in with two feet. When you're bold enough to take risks, the rewards can be sweet. Well, it's the same way for Greater Lansing's annual week-long celebration of music, the Common Ground Fest set this year for July 9-15, 2012.
While 7-day passes are officially on sale now, the music acts won't be announced for a while yet. Here's your chance for a sweet summer surprise! I've played the guessing game myself and WON big over the years. Yep, taking the leap has brought me some fun live musical experiences like seeing everything from LL Cool J to Lynard Skynard to Three Doors Down to Tesla, Cheap Trick, David Lee Roth and many more. You see, when you're bold, and you play the odds that the acts are going to be something you'll like and you buy your passes now, you get a sweet deal. Just $69 for 7-day general admission passes! That is a super good deal, considering often times one concert performance is that much or more. You know? Looking to have Summer 2012 be your season to party? Go big and jump on the 7-day pass for the Un-Common Club for $299! The Un-Common Club gives you private viewing areas with sweet sight-lines, free grub, shorter lines for drinks and a parking hook-up as well.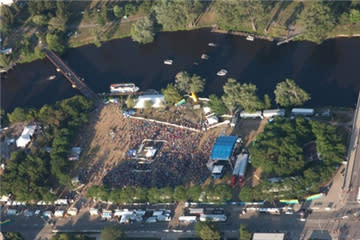 Sure you can wait until all the acts are announced and the prices go up, so you can bank on a sure thing, but I say live dangerously. You know there will be a bunch of acts you like this year! Even if the acts are not your all-time favorites, having the pass is still sweet because it gives you week-long access to the biggest party of the summer, right downtown on the river. Come down, get some sun, people watch, run into some old friends or meet some cool new people. No matter who's playing a good time awaits! Be brave! Be bold! Take the chance that you'll be a fan of the acts and get a sweet deal on your 7-day pass Common Card! I mean hey, faint-hearts never rocked out front row to REO Speedwagon, am I right?Get info about Common Cards and the acts as they come in at www.commongroundfest.com