Happy Birthday America!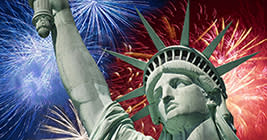 The Fourth of July has got to be one of my favorite holidays. Unlike other holidays it doesn't require a ton of prep work, shopping, wrapping or hours slaving at the oven. You want to decorate the house? Decorate the house, but no one is going to be digging out decorations all day or setting up the 4th of July tree, am I right? Yes, its a birthday we're celebrating, but you don't have to buy a gift. Just say, "Hey America, Happy Birthday!" The weather is warm, the sky is blue and people usually get together for cook outs and a ride on the boat and toss the Frisbee around and the goal for the entire day is have just a general easy-going good time. No pressure, just laid back. It's just a fun day to be an American, so no matter what you do, spend the day feeling free. Yes, the Independence Day holiday gives us a chance to pause for a moment and think about how lucky we are to live in a country that is as awesome as America. Be sure to make part of your 4th of July celebration a great big classic American Fireworks display! They are going on all over this great country on the 4th of course, but here are a few around the Greater Lansing area for you to check out.
Adado Riverfront Park Downtown Lansing Mason Fireworks at Ingham County Fairgrounds Meridian Township Fireworks
We're also lucky to have the fun of a Lansing Lugnuts home game the evening of the 4th of July. The game will be great and there will be a fireworks display to remember before you head to your car. The game starts at 7:05 p.m. and its going to be a popular event so get your tickets now!
Whether its fireworks, baseball, cookouts, swimming or just some kind of laid back togetherness, make this Fourth a great one - Yes, it's America's Birthday, but YOU get to have the fun! Woo-hoo!