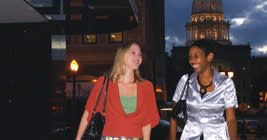 What's going on with you lately?! Sheesh! Since the holidays you've been eyes down, nose to the grindstone and working like crazy! Break the first-quarter work frenzy and look for an occasion to have a good time for once. Now I know, you keep saying you'll have some time for fun when the work is done, but here's the bad news, that inbox of yours just keeps growing. Sometimes you've got to say, "forget it, lets have some fun!" Why not take some time to kick up your heels this Friday at a really fun and successful promotion going on locally, Lansing First Fridays!
When is the next one? How does it work? Why, this Friday, March 1, of course, and it goes like this!
On the first Friday of every month Greater Lansing rolls out the fun carpet - big time. You'll find tons of restaurants and bars with unique specials, shops and galleries with extended hours, and events for everyone to enjoy. Talk about a cool way to get out with your pals and just have some laughs! Come out on this First Friday and explore the fun side of Greater Lansing - where you can expect the unexpected!
What's the best part (other than the great food and drink specials going on all over town)? Toss your car keys and enjoy free CATA bus and trolley service!
There will be FREE rides on CATA's Entertainment Express trolleys, running every 15 minutes between downtown Lansing and downtown East Lansing. The trolleys will run from 5:30pm3:00am.
Additionally, system-wide CATA bus service, underwritten by Team Lansing Foundation and MSU Federal Credit Union, will be FREE beginning at 7:00pm until end of regular service on First Fridays. This includes fixed-route buses and Spec-Tran.
Whether you live in Lansing and can hop on a CATA bus at a stop near you or you're coming from out of town and need a place to park 'n' ride, CATA service is easy to find. Get more CATA bus and trolley information, or just look for signs like these to catch the Entertainment Express CATA bus!
Get more information at lansingfirstfridays.com but make one thing a priority - Get out this FRIDAY and have some fun! Wouldn't that be a FIRST?