This is it everybody. Not later, not in a few months - now. Almost makes you want to stop time for a minute. The fun of knowing all that is ahead - it's a feeling you want to keep in your heart as long as you can. That special moment of knowing that the wait is over. It's like the feeling you have inside you when you've got incredibly awesome news to share with your very best friend. We've made it to the start of another great festival season in Greater Lansing, Michigan.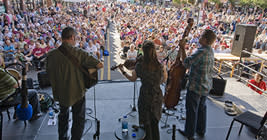 Around here when the weather gets warm and the flowers smile as they find the sun we switch from being known as Michigan's Capital City to being Michigan's Festival Capital - and for good reason. Starting this weekend there is literally a festival, fair, fiesta, celebration or special days with big doings on every weekend until summer 2013 breathes its last gasp in September. It can never be said that we don't make time to kick up our heels in the sunshine months in mid-Michigan, am I right? From quaint and rural surrounding communities, to Adado Riverfront Park downtown, to Lansing's cultural heart of Old Town, festivals and fairs are going at full throttle, no matter what your taste. Consider it a Midwestern celebration of small town charm, big city buzz, food, music, art, kids, cars, the sun, the moon, life, love and laughter. Naturally your next thought is, "Well heck - what festivals are going on, when are they and where? I don't want to miss any of the fun!"
Don't panic, dear reader, because along with having great festivals, Michigan's Festival Capital also has something else - the Greater Lansing Convention and Visitors Bureau. What does that mean? It means you sit back and rest assured we're going to catch EVERYTHING cool going on and tell you about it in plenty of time. check back frequently to the Events Lansing Michigan section of this website, download our free mobile app, download our digital Visitor Guide for your tablet device or just pick up a print version of the Greater Lansing Visitor Guide (yes, we still print thousands upon thousands of them annually, just for you) and you'll be absolutely in the know about the over 60 or so awesome festival-type events going on between now and oh, let's say, MSU's homecoming football game. And you thought you were going to do yard work this summer...
The wait is over. Put on your shorts and flip-flops. It's festival season in Greater Lansing, Michigan. Come out and play.