I don't really know anyone who has been to JUST ONE festival in Old Town Lansing. If you've EVER been to a festival in this cool, creative and artsy corner of Greater Lansing, than you're officially a fan and you look for the festivals here like a kid might hunt for Easter Eggs. Go to one and you'll be hooked - its that much fun. Festivals just FEEL right in Old Town, Lansing, and this weekend will be absolutely no exception as the Old Town BluesFest rolls back into town Friday September 20 and Saturday the 21st.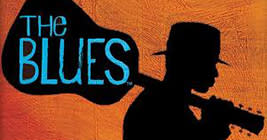 Once again the Old Town BluesFest will be bringing an exciting lineup of live blues acts from around Michigan and the U.S. to Lansings anointed "festival hub" neighborhood at the corner of Turner Street and Grand River Avenue this weekend and a good time is a sure thing. The music gets right into your soul and the scene is both Hot and Cool - as is the very nature of blues.
Old Towns turnaround over the last several decades has been unprecedented, and the blues has been an integral part of that, said Terry Terry, Co-Founder and President of the Michigan Institute for Contemporary Art (MICA). BluesFests live acts are participating in living history, and were thrilled to welcome them to Old Town this fall.
Since the 1980s, development in Old Town has been driven by festivals, galleries, and creativity - in fact, over the last three decades Old Town has attracted the highest concentration of creative service businesses in the state. That theme will continue at the 2012 BluesFest, as each performer is asked to play an original composition, one that has never been played at any other festival. How cool is that? This years headlining acts include local group Jimmy G & the Capitols, who will be joined for their final Friday set by Grammy-nominated singer and harp man Sugar Ray Norcia. Saturdays headliner will be Chicagos talented and charismatic Big Lou and the BluesVille Revue. BluesFest will also be offering kids activities in the KidzBeat area, near the MICA Stage from 1 to 7 Saturday. KidzBeat will include a pasta art project, free face painting, hands-on music-making experiences and a Build Your Own Broad activity presented by the Broad Art Museum.
Visit www.oldtownbluesfest.com or call 517-371-4600 for more information.