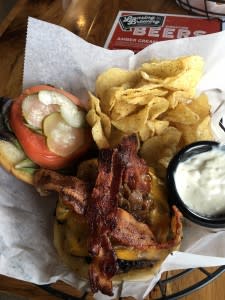 Mention the word burger and I'm in. There is nothing like a good char-broiled juicy burger to satisfy my hunger. Make mine medium so that the center is pink. I give extra points when it drips down my wrists. If I don't get messy, the burger probably wasn't that good. I like everything from a simple cheeseburger deluxe to an olive burger or a fancy pants obi-wan-kobe-waygu-go-for-the-gold-patty-with-some-crazy-stinky-cheese-crumbles-on-top burger.
And I KNOW that the Lansing area can fulfill the need of every burger lover…or so I understand. Come along with me on my burger journey.
My co-worker and partner/blogger-in-crime Emily and I took a walk to the Lansing Brewing Company from our Michigan Avenue office. Located right behind Cooley Law School Stadium on Shiawassee Street this brewery is a recent addition to the area known as the Stadium District in downtown Lansing. There are lots of dining options in this area and the Lansing Brewing Company's menu has a nice selection from great looking salads to their acclaimed poutine, fish and chips and wraps, and so on. But we went in search of their burger options.
Emily ordered the Be Still My Heart BBQ Burger and upgraded with some sweet potato fries which looked amazing. (½ pound char-grilled burger topped with Union Golden Ale braised pork, smoked cheddar cheese, pickles and our beer infused BBQ) She also likes her burgers sloppy so ordered a little extra BBQ sauce.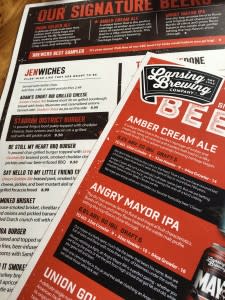 I'd like to think our mayor is not angry…just passionate.
I went with the aptly named Stadium District Burger and stuck with the kettle chips which were deliciously seasoned with sea salt and pepper. (½ pound Angus beef patty topped with cheddar cheese, beer onions and bacon on a grilled roll with dill pickle aioli) It was nice and juicy and came with liberal side of the aioli sauce. I drizzled some on the burger and left some for dipping my chips into. Mmmm. Mmmm. Mmmmm. Because it was a work day lunch, we were not able to pair the burgers however I mentally noted the brewers suggestions of either the Union Golden Ale or the Amber Cream Ale to go with the zesty BBQ burger and then to pair the more traditional burger with the Angry Mayor IPA or the Black Hole Stout.
It was a burger win all the way around. I'll definitely be back when I can have a nice cold beer to accompany it. I'm so looking forward to great weather when the garage doors are open and the large patio is an option.
P.S. For the alternatives out there, the Quinoa burger is outstanding. Just so you know.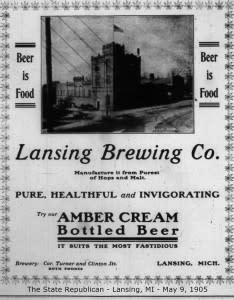 Beer is Food. lol. Alright!!!
The Lansing Brewing Company is located at 518 E. Shiawassee St., Lansing. It was originally located on the north side of Lansing in Lower Town or what is currently called Old Town Lansing. One of the first breweries in Michigan's Capitol city, the Lansing Brewing Company supplied craft beer to artisans, laborers and tradesmen as they built our city over a century ago. Opened a year after Ransom E. Olds' historic automobile ride down a city street in 1897, the Lansing Brewing Company welcomed its first customers. Popular (especially the Amber Cream Ale) for over a decade, the Lansing Brewing Company closed their doors in 1914 due to prohibition. But we're glad they're back in business. This is a very popular spot both during the weekdays and on weekends but there's plenty of free parking.
Stay tuned for the next burger installment. Plus I'd love to hear your favorite #lovelansing burger joint.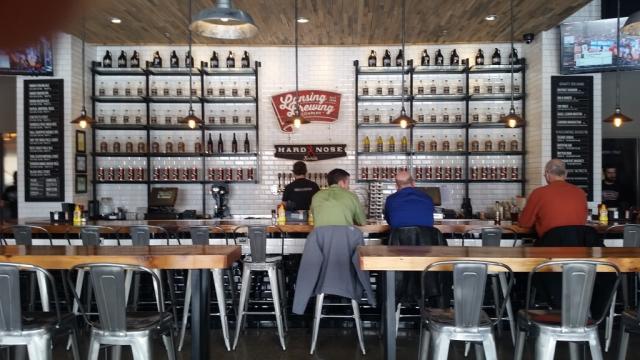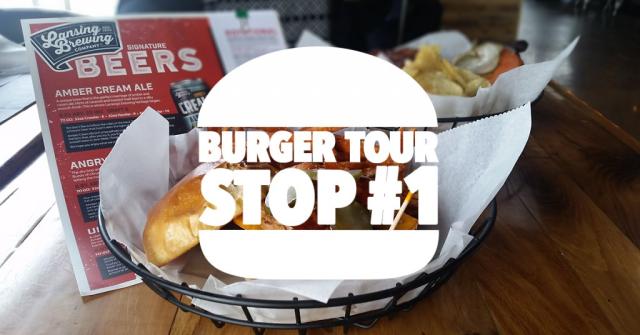 Next Up Possible Burger Options:
The Nuthouse
Tavern & Tap
Crunchy's
Bagger Dave's
HopCat
Tavern 109
Spartan Hall of Fame
Midtown Brewing