Maybe its because its starting to get cold out and people are trying as hard as they can to warm up - but no matter the reason, fall has a way of bringing out beer-lovers and brew-fanatics of all kinds. Looking for some new things to do in Lansing? Well there is a brand new beer, cider and mead focused Lansing festival this weekend, November 9th from 1 p.m. to 6 p.m. that you've just got to check out. Are you a micro brew fanatic? Well get out and celebrate at LANSING FALL FEST! Like I said, this is Lansings first Annual Fall Fest featuring the best in craft beer, cider and mead. What does that mean? Come thirsty and with an open mind. Be ready to try new things and branch out from the big boring beers you drink every weekend.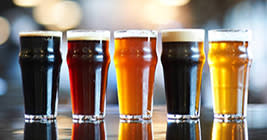 Lansing Fall Fest is an indoor (yes indoor, so even if you are a baby who can't handle Fall weather you'll be fine) beer, cider and mead festival with live acoustic music hosted just west of Lansing above the Red Salamander brewing supply shop at 902 E Saginaw Highway, just west of Lansing in the community of Grand Ledge. Lansing Fall Fest will have 16 Michigan Breweries, Cideries, Meaderies showcasing 30+ craft beers, ciders and meads. Tickets are $30 each and a value as you get to try a ton of drinks and get a one-of-a-kind logo sampling glass. Proceeds from this event will benefit the Child and Family Charities.
Want specifics on the exact Breweries involved? Here you go: Arcadia Ales, Atwater Brewery, B. Nektar Meadery, Bad Brewing, Brewery Vivant, Crankers Brewery, Eagle Monk Brewery, Jolly Pumpkin, Mt. Pleasant, North Peak, Perrin Brewing, Saugatuck Brewery, Schmohz, Uncle John's Cider, Vander mill Cider, Virtue Cider.
Saturday NOV. 9th, 2013 1pm - 6pm
Advance Tickets: $25 (save $5) Logo Sampling Glass, 10 Sampling Tickets - 3oz each
Advance VIP Tickets: $30 (Exclusive First 100) Early NOON Entry, Logo Sampling Glass, 15 Sampling Tickets - 3oz each
Tickets at Gate: $30 Logo Sampling Glass, 10 Sampling Tickets 3oz each
http://www.lansingfallfest.com/