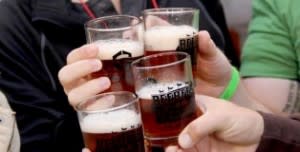 It appears that the Greater Lansing area has a big thirst for beer these days. Just about everywhere you look, there is a new micro-brewery popping up or a new festival celebrating suds. Well, I say, if you cant beat em, join emso why not dive head-first into this beer boom? The fourth annual Lansing Beer Week will take place from June 19th to June 27th, culminating with theAnnual Lansing Beer Festival in REO Town on Saturday June 27th from 1 p.m.6 p.m.This weeklong celebration will feature Michigan craft beer themed events and specials throughout the Greater Lansing area. Organizers say the goal of Lansing Beer Week is to raise awareness for breweries in Lansing and the Michigan craft beer industry while promoting patronage to local establishments and stimulating the greater Lansing areas retail economy and Michigan-made products.
Lansing Beer Week was established by Im a Beer Hound founder Paul Starr and Motor City Tour Company founder Steve Johnson. So yes, Lansing Beer Week has big things going on all week, but if you can only make it out to one part of this event, come Saturday to get a taste of the breweries in Lansing Beer Fest. This beer- and music-infused event is an outdoor festival on Washington Avenue between South St. and Elm St. in REO Town.
This festival will feature 30 breweries in Lansing and the rest of Michigan, plus 100+ craft beers as well as craft cider, mead, and spirits. In addition to the great beer selection, there will be a food truck court, live music, vendors, and more!
A portion of the proceeds from this event will benefit the REO Town Commercial Association.
While sipping the tastes of some glorious Michigan breweries in Lansing, attendees will be hearing live music all day. Kicking things off will be Joe Wright, who travels all over the Michigan area playing his own unique blend of classic rock and country. Next up is North of Memphis, who plays a blend of old-school country. The headliner is The Orbitsuns, the Motor Citys finest purveyors of low down and dirty outlaw country. Event organizers claim the Orbitsuns are as outrageous as Iggy, as blue collar as Seger, as dark as Alice, as revolutionary as the MC5, and as boundary-crossing as the Kid. Hmm. Tough billing to live up to, but worth checking out, I say.
Then, of course, what is a festival without good food? This year, we will have a mobile food court just outside of the festival with four to six different food trucks. The food options will include BBQ, burgers, hot dogs, vegetarian options, and more. The food truck list will be updated once the festival gets closer.
Looking for some crazy variety? Wow. Hope youre thirsty, because the breweries in Lansing Beer Fest will include 51 North Brewing Co., Acoustic Brewing Co., American Fifth Spirits, Arbor Brewing Co., Arcadia Ales, Atwater Brewing Co., Bad Brewery, Bells Brewery, Blakes Hard Cider, Brewery Vivant, Cellar Brewing Co., Cotton Brewing Co., Crankers Brewery, Dark Horse Brewing Co., Eagle Monk Brewery, Frankenmuth Brewery, Founders Brewing Co., Gravel Bottom Brewery, Greenbush Brewing Co., Griffin Claw Brewing Co., Latitude 42 Brewing Co., Midtown Brewing Co., Mountain Town Brewing Co., New Holland Brewing Co., Paw Paw Brewing Co., Perrin Brewing, Pigeon Hill Brewing Co., Right Brain Brewery Co., Saugatuck Brewing Company Co., Schmohz Brewing Co., Shorts Brewing Co., Sleepwalker Spirits and Ale, Spartan Beer Co., The Gallery Brewery, and Uncle Johns Hard Cider.
Got you interested? Heres the info on prices:
Advance Tickets: $30 (save $5) Festival Glass, 10 Tasting Tickets 3 oz. each
VIP Tickets: $40 (Exclusive First 500) Early NOON Entry, Festival Glass, 15 Tasting Tickets 3 oz. each
VIP Tickets Are Available to Purchase at REO Town Pub
At The Door Tickets: $35 (Includes 10 3-oz. Tasting Tickets, but Festival Glass is NOT GUARANTEED)
Designated Driver Tickets: $10 Purchased at the gate. Includes entry to festival and a bottle of water.
*Entry to the festival: the first 1,200 through the gate get a Logo Tasting Glass and 10 Tasting Tickets each Tasting Ticket is redeemable for a 3-oz. pour of one of the 100+ beer, cider, or mead selections (please note that some beers are specialty beers or contain higher ABV and may require additional tickets). Additional tickets will be available for purchase at the festival, so bring along extra friends to help support breweries in Lansing.
Whatever the weather, we'll be enjoying the fine products of Michigan breweries. In Lansing, this festival is a rain or shine event, and tickets are not refundable.