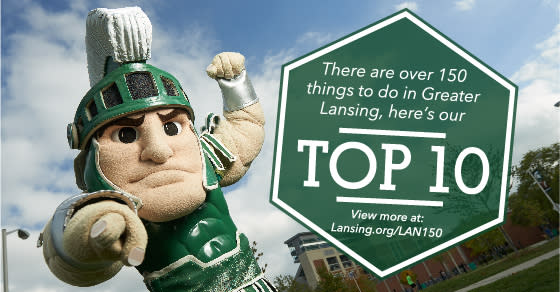 Whether youre visiting the Lansing area to see friends and family, or you have a work conference scheduled, plan on staying a couple of extra days to see the sights, try some local restaurants and enjoy a festival or four. Whats there specifically to do, you ask? Well Ive got 150 things and more for you to see and do. No, you cant pack that all into one visit, but theres always the option to plan a return trip, right?
Take a look at our 150+ suggestions and I guarantee youll be inspired, delighted and entertained. Here, let me start you off with a few things.

Go Nuts and attend a Lansing Lugnuts baseball game. Fireworks add the perfect ending to a perfect summer evening at the ballpark.
Heck, you dont need kids to enjoy Impression 5 Science Center. See our video to see who loves I-5 morethe kids or the adults.
Stroll the campus of Michigan State University. Check out the Broad Art Museum or hit up the MSU Museum and stand in the shadow of a dinosaur. Take a selfie in front of the Spartan statue.
Shop the galleries or boutiques in funky cool Old Town.
Rent a kayak outside the Lansing City Market and take a paddle up the Grand River.
Take in one of the 60 plus festivals and events in the area.
Tour the State Capitol Building. Its stunning. Free tours weekdays.
Bike the 13 mile Lansing River Trail all the way from Old Town to MSU.
Attend a Big Ten sporting event. Youre in Spartan country, baby.
Take in a Broadway show or the Lansing Symphony at the Wharton Center. Culture never felt so good!
So thats a good start for you. And theres even a bucket list so-to-speak that you can print out and check off. Maybe we should make this a challenge. What do you say?
Greater Lansing offers over 150 things to do. With only 48 hours in a weekend, the clock is ticking. Download the LAN150 Bucket List to get started.