I dont know about you, but I love green spaces. As an urban dweller, they evoke cool, serene, green, thoughtful places. Whether its a small community garden, a pocket park, a city block filled with trees in the shadow of tall buildings, or acres and acres bordered by a lake or river, green spaces help to ease the stress of daily life. Add a fountain, a playground and the occasional community concert and youve found a sweet oasis. Personally, parks bring back fond memories of playing Frisbee with the kids, taking the dog for a good romp and small feet running towards the swings. These are the places where memories are made, hands are held and work is pushed to the back of your mind.
Some of my favorite parks include Grand Ledges Fitzgerald Park, Hawk Island Park and the cute little Turner Park in Old Town. Greater Lansing has an abundance of parks for every activity you can think of and for all seasons. If you know me, you know I love to hear the back story of just about anything. One particular park-Lake Lansing Park-has been re-inventing itself for over a century.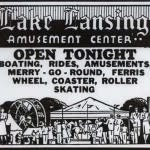 Did you know that Lake Lansing was once known as Pine Lake? And did you know Lake Lansing Park was once home to a Spiritualist Camp with an auditorium that could seat 2,000? Do you remember when it was an amusement park complete with Dodge-em cars, a big ferris wheel and an arcade? Did you know that when the park closed, the carousel was sold to Cedar Point? http://www.lakelansing.org/History/History.php

Next Thursday, the Friends of Ingham County Parks are hosting Cuisine and Carousels, an inaugural fundraising event, benefitting all Ingham County Parks. Enjoy mouth watering hors doeuvres, wines by Burgdorfs Winery, beer from the BAD Brewing Company, jazz by the Arlene McDaniel Trio. Prepare to enjoy glimpses from the past shared through pictures and stories that celebrate the historic traditions of Lake Lansing Park where the wooden Roller Coaster thrilled, the Ferris Wheel rose high and the Carousels charmed all. See great old photos here-->http://www.waterwinterwonderland.com/amusementpark.aspx?id=1589&Type=2
What: Cuisine and Carousels
Where: Lake Lansing Park South
When: Thursday, August 15, 2013 6:30-9:30 p.m.
Cost: $60 per person
For event information please call Karen Fraser, Director of Development, at 517-244-7186 or kfraser@ingham.org. Tickets for this fundraiser event are $60 per person and are on sale now at www.friendsofinghamcountyparks.org.