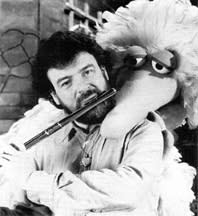 When it comes to music I think people tend to be a product of their environment. By that I mean the music that is around you when you are a kid, the things your parents, siblings and friends listen to, tend to be songs you will also like. Lucky for me my parents and older siblings were always playing music. All kinds, too, so I guess I'd say I'm pretty well-rounded. Are you?
One of the musicians I always remember coming out of my Mom's stereo when she'd be cleaning up the house, making meals and doing laundry (for a lot of years I think these jobs never ever stopped. Thanks Mom!) was the flute mastery of James Galway. Super pretty, relaxing background music no matter what time of year, but especially at the holidays. James Galway has a Christmas CD I remember so fondly from my childhood I went out and bought it myself. Well right here in East Lansing, The Wharton Center for Performing Arts to be specific, we're about to be treated to a live performance by Sir James Galway (I guess he picked up a knighthood when I wasn't looking!) that is sure to delight.
Some of Galway's original pieces as well as well known classical pieces from Mancini, Mozart and Debussy, will fill your evening with song and your heart with emotion. Especially cool about this performance, Sir James will be joined by his wife, accomplished flutist (who knew?!) Lady Jeanne Galway. Now THAT is cool. An evening of incredible flute awaits at the Wharton Center this Thursday, March 28 at 7:30 p.m. Do yourself, and someone you love, a big favor and expose them to the kind of music that fills your whole life with song - like the music of James Galway.
Sir James Galway: Legacy Tour
March 28, 2013 - March 28, 2013 Venue: Wharton Center for Performing Arts Address: 750 E Shaw Ln, East Lansing, MI 48824 Times: 7:30 p.m. Admission: $25, $50, $65 1-800-WHARTON www.whartoncenter.com
The world's most famous flute player Sir James Galway is the supreme interpreter of the classical flute repertoire and a consummate entertainer, whose appeal crosses all musical boundaries and ages. A musical legend, his virtuosity is equaled only by his limitless musical vision.