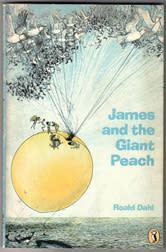 James and the Giant Peach is a story I will absolutely never ever forget. Not just because it is an amazing tale, told by an awesome writer, containing humor, drama and gripping adventure. I'll remember it forever because it was one of the very first books I ever read. Oh, I'd read hundreds of childrens story books, but I mean as far as chapter books, James and the Giant Peach was a big one. I still can picture my exact copy of the book, brand new and perfect sitting under the Christmas tree when I was nine or ten. I read it and loved it so much, that I started it over immediately and read it again. Author Roald Dahl's gift for communication to, and talking about children, took me on the amazing journey in the huge fantastic peach, right along with James and all the awesome insect characters. I remember especially the evil aunts that James has to live with at the beginning of the book. These are awful, mean and terrible women. One tall and thin (Aunt Spiker) and the other short and fat (Aunt Sponge). At the time the characters reminded me a lot of my third and sixth grade teachers, respectively. Dahl has this amazing gift of recalling exactly what it feels like to be a child, and writing his stories from that perspective. This tale is full of excitement, laughs, songs as well as wild and endearing characters. Well as big a fan of the book as I am, I was really excited to see the story coming alive in the form of a play at the Pasant Theatre, associated with the Wharton Center for Performing Arts. How on earth will they convey this huge story (peach and all) on such a small stage? Everything from sets, to costumes, to props, I'm just wondering, how will they do it? Well, I plan to find out. My family and I will be going to see this awesome story come alive as an on-stage performance, and I'm excited for it. I was so excited at the notion of this play in fact, that I went to dig out my old copy of James and the Giant Peach I had gotten for Christmas back in 1984. Now that book lives 0n my son's book shelf, and its for sure not brand new looking anymore. The cover has a tear and the pages are dog-eared and well-worn. I think I saw an old pizza stain on page 35. All the signs of a well-loved book. I've read it myself a ton and my kids have read it together a couple of times over the years as well. I'm looking forward to another walk through this awesome journey, this time not on pages, but under the lights and on stage. This peach of a story should make a really sweet play.
James and the Giant Peach
October 12 - 21, 2012 | Pasant Theatre at the Wharton Center for Performing Arts
Tickets: $15.00 Student tickets: Student tickets available for $10.00.
Director Pre-Show Discussion Sunday, October 14 at 12:15 PM **Post-Show Discussion on Thursday, October 18, 2012 (Following the Performance).
Stratford Theatre Festival Artist Edward Daranyi returns to direct an adaptation of Roald Dahls warped classic. An imprisoned boy! Insect friends! An incredible journey! This amazing adventure of James Henry Trotter will fulfill the fantasy of anyone who has ever dreamed of escape. Former MSU student and Tim Burton collaborator Lee Bo Henry returns to MSU for a special screening showcasing his work on Burtons film James and The Giant Peach".
Age Rating: Children 12 and under tickets available for $8.00
Seniors and Faculty tickets available for $13.00