Everyone knows the apple rules fall, but do you really know all the ways to enjoy an apple? Trust me, there are many. Everything from shooting them off someones head with an arrow (absolutely not recommended) to about 100 other ways, more delicious (less dangerous ways) the apple is awesome, and lives to serve. How can you serve an apple? About as many ways as you can possibly imagine. Lucky for me I like them all. Apple bread, apple sauce, even apple butter. What's apple butter? Glad you asked.
Apple butter is a highly concentrated form of apple sauce produced by long, slow cooking of apples with cider or water over an open flame to a point where the sugar in the apples caramelizes, turning the apple butter a deep brown. It's a long process that ends with a delicious byproduct that apple-lovers crave. Want to try some? See it made? Maybe help make it?
The 41st annual Apple Butter Festival, set for October 11th and 12th from 11:00am-5:00pm, promises to excite the senses with the sights, sounds, and smells of autumn. Spend the day at Fenner Nature Center, surrounded by nature, while celebrating the harvest season and all its history, glory, and tradition. Produced in the fall as a means of preserving part of the apple crop, apple butter production was a community project that brought together generations of families and neighbors, young and old. Fenners Apple Butter Festival is truly a community event, with visitors trying their hand at heritage games, using a cross-cut saw, and even helping to stir the apple butter as it boils over the fire in a copper kettle.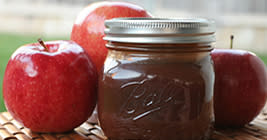 This is something you can literally make a weekend out of, because its so much more than just apple butter. Whether you visit the numerous heritage artisans, join the pumpkin carving contest, or just soak up the live music and ambiance, this years festival is sure to be a memorable experience. Live music will be going on during the whole festival and be sure to stop by for a picture and a conversation with one of the celebrity Apple Butter stirrers lined up like Jack Robbins and Karen Love from 89.7, Tim Barron from 92.9 or Sparty! Check out Fenner's site for all the specifics, naturally.
It's important to note that while the Festival itself is FREE, Parking is $5 per car. This bit of money goes a long way to help fund the critical programming at Fenner Nature Center, so it goes for a good cause. If the money is a hardship however, folks are encouraged to still come, just ride your bike to the event via the river trail! Fenner is easily accessible by taking the Lansing River Trail from any direction. Free bike valet generously provided by Mid-Michigan Environmental Action Council. Worried about a crowded packed lot or want to do something more GREEN? Do something fun and ride the Apple Butter Shuttle!
Thanks to Dean Transportation, visitors can ride the shuttle to the festival for FREE! The first shuttle will leave at 10:30am from the parking lot at The University Club of Michigan State University, located at 3435 Forest Rd. The last shuttle returning to the University Club will leave Fenner at 5:30pm.