Late February can be a tough time of year. This year February even has an extra day in it - ouch! You've still got cold weather but the holidays and other fun winter things are now way in the rear view mirror. Spring is getting close and we're getting some warm days but its nowhere near time to be opening up windows or going to Home Depot for mulch. If your kids aren't tired of sledding yet, you are FOR SURE tired of taking them - trust me, I know where you're at because I'm right there with you.That's why I've got the following recommendation.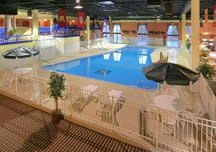 It's time for an in-town hotel stay getaway. Yup, I'm a big big fan of this kind of fun in late-February/early-March. Book a room at a Greater Lansing hotel (ideally one with a pool) and get your significant other and any kids you have out of the house and off for a little mini-vacation. It honestly feels like just that. You can get a break from housework and the winter blah's and when the kids are having a ton of fun and burning off steam in the pool, you can be sitting poolside drinking a beverage and reading the book you've been meaning to start since Christmas. I did this last year with my family at the University Quality Inn and had a blast. We swam and sat in the jacuzzi and ordered pizza to the room and it felt like we were out of town, except without the long drive! Heck, we were so close to home in fact my wifewas easily able to pophome a few times to walk the dog and then came rightback. When we woke up the next morning we had an awesome breakfast (which my wife and I didn't have to cook or clean up - BONUS!) and the kids swam a little more and then we made the long 4-mile trek back home. It's honestly a lot of fun.
I guess my point is, there is maybe not a ton of obvious recreation and leisure going on in late-February, but fun can still be had, you just have to be a little creative. If you're looking to be your kids hero build around this in-town hotel overnight evenmore indoor fun, like taking in a movie, go hit golf balls at FunTyme Adventure Park, take a few laps at Edru Skate-A-Rama or have the kids totally exhaust themselves at Jumpin' Jax. "Easy fun" is on the way, like walking out your front door with the sun shining and kids on bikes and you're headed to the lake, but right now, when the sky is grey, its 32 degrees outsideand you're feeling at the end of your rope, hand that rope to a Greater Lansing Hotelier - they'll lead you and your family toward a fun stay-cation! Comment on this blog post with any recommendations you may have or any other winter blah busters - we're all in this together! Discover other cool Hotels in Lansing for your next getaway trip at our website.