Walk around in downtown Lansing and you can find an abundance of details that might just be overlooked if you're intent on just getting somewhere. Slow down and look closer and take notice of workmanship that you just don't see in newer buildings. This is craftsmanship at its finest. If you look, you can see that the buildings are telling you their story.
Take a look and see if you can figure out what these depict.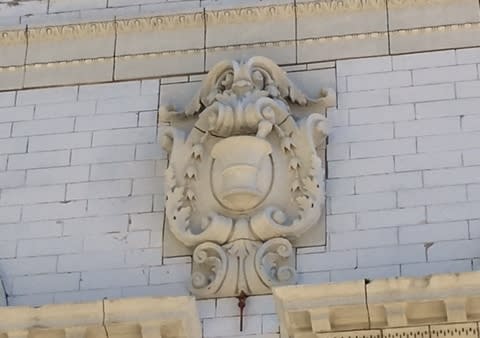 Standing on the northeast corner of Washington and Allegan, the Rouser Drug Company has been at 123 S. Washington Avenue since the 1880's. You can still find the cartouche bearing the mortar and pestle symbol of the pharmacist on its façade.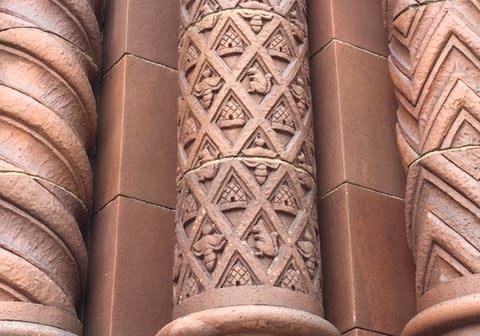 The tallest building downtown that houses the iconic neon clock was built in 1930 by Lansing philanthropist Ransom Eli Olds and named Olds Tower. It currently is known as the Boji Tower. Find tall columns with squirrels and beehives at the Allegan entrance. Productivity, industriousness (bees) and forethought/thriftiness (squirrels) was the mindset in this period of uncertain financial times. Squirrels and acorns as motifs on bank buildings may symbolize storing your stash for future use.
"The creation of a thousand forests is in one acorn" -- Ralph Waldo Emerson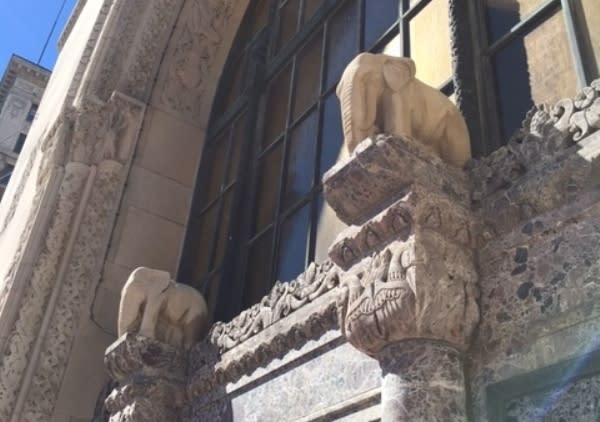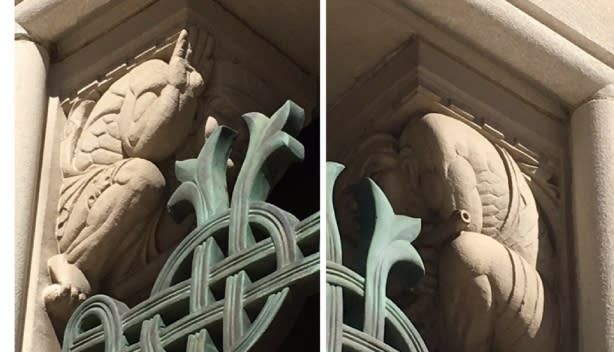 Surely you've walked past Comerica on the northwest corner of Washington and Michigan and noticed those sturdy, strong and dependable elephants guarding the front entrance on Washington. Those definitely signify the reliability of the bank itself, but look up as you walk the Michigan Avenue side and see if you can find the dentist and his patient tucked up in the corners of the window openings (dentist offices that were located on the upper floors), the robber and victim holding his hands up. This building has symbolism in so many places. Can you find the buffalo, eagle, Indian and the god Mercury representing US coins?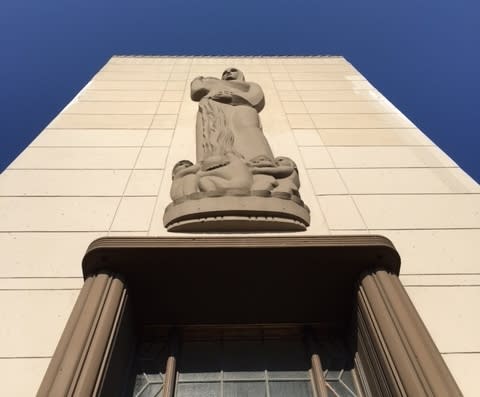 The 32ft tall bas relief of the Greek water bearer, "Aquarius" created by Samuel Cashwan, (head of the WPA Sculpture Section in Michigan extends out of the edifice over the copper double doors at the Lansing Board of Water & Light's John Dye Water Conditioning Plant at 148 S. Cedar Street.
So, look around you. I spy a Lansing filled with history and stories just waiting to be discovered.
Did you know that Greater Lansing offers over 150 things to do? With only 48 hours in a weekend, the clock is ticking. Download the LAN150 Bucket List to get started.