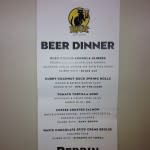 HopCat in East Lansing presents a once a month a beer pairing dinner that is, simply stated - delicious. I attended the February event when they partnered with Perrin Brewing Company out of Comstock Park Michigan (near Kalamazoo.) First off, I have to confess that Im not a huge beer drinker. And when I do drink beer, its usually a Bud Light. I know. I know. You shake your head. I hang my head. Im so sorry. BUT wait. I may have a chance to redeem myself.
I arrived upstairs at the beer pairing at HopCat in East Lansing and was promptly greeted with a tall pint of Perrins Black Ale. In my head I was thinking, Im doomed. Ugh, here goes nothing. But as I took my first sip, I was delighted to find that this dark looking ale was lighter than I thought, nice and crisp and actually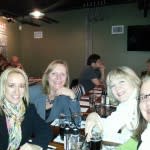 delicious. Paired with a bleu cheese arugula slider and a jalapeno cream cheese dip with pita chips, I was so happy and kind of pleased with myself for overcoming my dark beer avoidance. The rest of the evening zipped by with different beers paired with delicious food. The remainder of the beers were served in smaller sized glasses so I was able to taste 5 different beers that ranged from an IPA to a coffee flavored brew and a vanilla porter. I smiled happily at the name Rye of the Liger which they served with some curry-coconut duck spring rolls.
It was a fun evening that I shared with friends and co-workers and I look forward to the next one coming up in March which is a Merchant Du Vin Beer Dinner: Tour of Europe. Who knows? All the beer savants that I know may soon accept me into their craft beer fold.