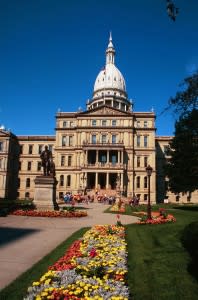 Well folks, local residents have spoken and the top five Greater Lansing area Festivals and events have been decided and we at the Greater Lansing Convention and Visitors Bureau are proud to announce that our annual event, Be A Tourist In your Own Town has been included in the top five! Considering the company in that group these are high honors indeed. For over 20 years now the Greater Lansing CVB has been opening the door to the Greater Lansing community in hopes of educating and inspiring local residents to become true fans of the region - fully aware of all its various offerings.
If you're a Greater Lansing rookie (if so, welcome!) the way the event works is this; you buy a Greater Lansing passport for just $1 and on May 30th you bring your crew and your passports and you get ready to explore as much of the area as you can handle. With our partner CATA providing transportation for just 50 cents you can travel on several different special Be A Tourist CATA routes and see over 90 different local attractions and hot spots. All free of charge with your Greater Lansing passport! From Potter Park Zoo to the State Historical Museum, to Impression Five Science Center to dozens more there are all kinds of attractions offering free entry, special offers and a memorable experience. Everything is in play here, and I mean that. Taste local wine and spirits, see wild animals, get on the ice, get a history lesson, make music, do yoga, drive a corvette, hold a scorpion, take a boat ride, play laser tag, bowl a game, paint a hub cap -- and more, and more and more....
Unlike your average festival or event that has you headed to one spot in town, Be A Tourist gets you all over the community, and has you learning about new and fun things you can do and then recommend to friends and family! Or maybe its not something new; maybe its an attraction thats been around forever that you just havent been to yet! Well May 30th is your day to explore. Greater Lansing is full of cool things to do, and yes, its very full of cool festivals and events. So the fact that we made the City Pulse Top Five for Annual Events and Festivals, well, we're honored. In fact, picture the Capitol Dome blushing. No matter who wins, these are some great area events and we sincerely hope you'll come out Saturday, May 30 from 10 a.m. to 5 p.m. and BE A TOURIST IN YOUR OWN TOWN!!