During the holidays all personality types are forced to become shoppers. Yep, at some level, even people who hate shopping, or literally never go and prowl the malls, have to do at least a little shopping in preparation for the big day on December 25th. While I don't 'hate' shopping per se, I'm for sure no candidate for mall maven of the year. Its for people like me that I'm going to shed a little light on the Greater Lansing shopping situation. You see, all the people that love to shop know a lot about what there is for shopping in this area. That counts for both residents and visitors. People that love to shop will find the big malls and the charming boutique districts without fail. Good shops and people that love to hunt for bargains can't be kept apart - call it retail magnetism. This blog sheds light on cool and unique-to-Lansing shopping for people like me - that's people that aren't totally clueless, but only tend to really shop in earnest during the holiday season. Thank me anytime guys.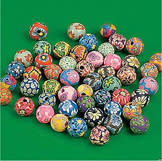 Want something your wife, girlfriend, mother or even Grandma will love? Go make some jewelry for the woman in your life at Polka Dots BEAD-a-ful Boutique in old Town Lansing at 1207 Turner Street. This place is full of cool and unique beads and if you're not exactly artistic - don't worry - you'll most likely get a little help with colors and style from the friendly owner, or one of her staff. Im telling you, major points for you to go here, make her something pretty and be sure to tell her you made it (you don't have to say you got help!)
A tie has gotten a bad rap over the years as an uninspired gift for Dad's but just about every dad I know would be super jazzed to get a tie from Kositchek's in downtown Lansing. This store has been the leader in men's fashion since 1865 and has the sharpest ties I've ever seen. These puppies aren't cheap, but c'mon, how much has Dad helped you over the years? You know he deserves it.
Got a quirky music-lover on your list? I know I do. Be sure to go check out Flat, Black & Circular. This East Lansing staple has been rockin' since 1977 and has all kinds of cool and hard-to-find CD's, DVD's, and yes, actual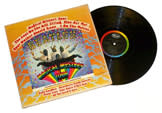 vinyl (If you're under 25, ask someone about what they used to call, 'record albums' - they were great).
You can earn a lot of points by giving candy as a gift. People aren't planning to go on their crash diets until New Years, so make their day with a box of amazingly wonderful chocolates from Fabiano's Candies on East Michigan Avenue. Family tradition and the best ingredients make these the best candies you'll find anywhere.
Alright maybe this last recommendation is a little odd, but I'm talking about giving Lansing-style gifts that are right on the mark - and this place is sometimes just what certain people would love. My brother-in-Law used to smoke, but has pretty much quit. He still however gets the occasional hankering for a clove cigarette. So who do you think was the hero last Christmas when I pulled him out of the house full of my massive family with music and laughing and kids running around like crazies, and brought him into the cold stillness of the driveway and brought out his gift? What was the gift you ask? A single clove cigarette from Campbell's Smoke Shop in East Lansing (207 MAC Ave). He almost cried. It was actually pretty beautiful. We stood there in the cold under a big bright winter moon and he had his smoke and we each had a beer and suddenly Christmas slowed down a bit and we had the courage to go back inside and handle the craziness Christmas brings.
So there it is - my recommendations for a few great local Greater Lansing places for shopping that is sure to make you look like you're better at shopping than you actually are! Right?! Good luck!