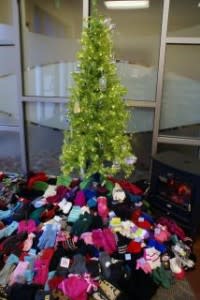 Last week the Greater Lansing Convention & Visitors Bureau hosted over 100 meeting planners at our annual Holiday Showcase at the Lansing Center. This was a networking opportunity between the people who plan conferences, meetings and other outings for their organizations and our members who can supply them with meeting venues, accommodations, catering, entertainment and just about anything they may need to make their meetings a success. It has come to our attention recently that many groups that are looking to book Lansing as their meeting place are also seeking opportunities to give back to the hosting community. They are looking because their attendees want to volunteer at events or at the local food bank, or to donate items to our shelters. Corporate social responsibility is on an upswing as more and more help is needed in our communities. So we, as the CVB, have responded to this with a comprehensive list of organizations that can use their help and other suggestions.
With that in mind, we tagged our Showcase theme, Helping Hands and asked our partners to decorate their booths with mittens or gloves. When the event was over, we would take those same decorations and donate them to area charities. What we collected was just plain astounding. It not only warmed our hearts, but more importantly will warm the hands of many local people. We collected, thanks to our very generous partners, was nearly 600 pairs of mittens, 34 hats, 20 scarves, 1 pair of earmuffs and 5 baseball mitts from the Lansing Lugnuts. We are donating them to various area charities that include St. Vincent Catholic charities, Village Summit, Volunteers of America, the MSU Give or Take Center and others. The baseball gloves went to an area youth athletic association.
Helping Hands, indeed.
and this just in. The Greater Lansing Sports Authority just accepted 300 mittens from the Jr. National Figure Skaters that were just here for competitions last week. So our mitten tree now replenished. Our cup runneth over.
* We are always looking for additional opportunities to help so if you know ofsome organizationthat needs a hand, please pass along the information. Contact Brandie Putnam at bputnam@lansing.org with your suggestions.