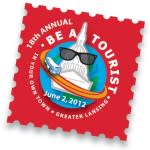 Be A Tourist In Your Own Townis coming up and we frequently get the lament that theres too much to fit into one day. Well, then, isnt that a great problem to have? That Greater Lansing has such an abundance of things to see and do is a boon to our region. Since this is our 18th year of presenting Be A Tourist to you, let me assure you that theres always next year to catch what you missed this year or last year. Or, if you really dont know, let me clue you in to a little secret I keep. A great majority of these places are open for you to experience all the time!! Yep, its true.
Pick an area or bus route
Visit the places that you normally have to pay an admission or the One day Only venues.
Make up your own themed BATYOT, like Year of the Arts.
Experience Greater Lansings little known gems. I never knew that was here!
Nature, Nature, Nature.
Be A Tourist doesnt have to be all about the big tourist stops. It can be a leisurely stroll through some of our glorious gardens, a stop at one of our awesome nature centers or even a stop at our oldest cemetery to visit some of Lansings most prominent and permanent residents.
As far as gardens go, we have some real gems. Both Lansing Community College's Shigematsu Gardenand the downtown Capital Area District Library have beautiful Japanese gardens. Its like an oasis in an urban setting. The koi pond, the plantings and the zen-like layout is very peaceful and serene. Or if youre looking for a more traditional planting style keep heading south on Capitol Ave. until you cant go any further. Its Cooley Gardens, one of my favorite spots. I love the layout and the pavilion area in the shade thats elevated and overlooks the gardens.
And dont miss stopping at either Woldumar or Fenner Nature Center. You can take the trails through various habitats and just enjoy being outdoors. I love to see kids being kids and exploring, running and learning about nature. They both have really niceVisitor Centerstoo.
And Im just thriller-ed to include Mt. Hope Cemetery as one of our stops during Be A Tourist. This beautiful setting need not be all about dead people, although those are the stories that I enjoy. The monuments are super interesting and the laneways throughout are a natural cardio-exercisers dream. Learn more about the elevations and glacial geographic formations throughout the property.
For more Be A Tourist information including maps, attractions, bus routes and more visit www.lansing.org/batyot. And like BATYOT on Facebook or follow us on Twitter.