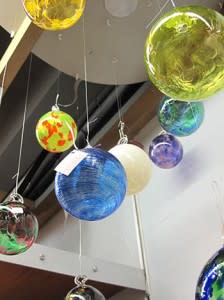 Be A Tourist in Your Own Town is coming up and we frequently hear the lament that theres too much to fit into one day. Well, then, isnt that a great problem to have? That Greater Lansing has such an abundance of things to see and do is a boon to our region. Since this is our 18th year of presenting Be A Tourist to you, let me assure you that theres always next year to catch what you missed this year or last year. Or, if you really dont know, let me clue you in to a little secret I keep. A great majority of these places are open for you to experience all the time!! Yep, its true. So here are some suggestions for you:
Pick an area or bus route to visit this year. (See blog # 1)
Visit the places that you normally have to pay an admission or go to the one day only venues. (See blog #2)
Make up your own themed BATYOT, like Year of the Arts. (See this blog!)
Experience Greater Lansings little known gems. I never knew that was here!
Explore Nature, Nature, Nature. Get Out!
Okay, lets hit on point # 3. Make this year a themed Be A Tourist day. How about hitting all the galleries and art places and maybe even get a little crafty?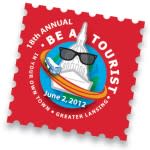 Absolute Gallery in Old Town-Kathy always has a fun artsy/crafty project to do each year. I think she's got a bead project on tap.
Art Alley in REO Town-Dont let the construction get you down. Head down Washington Ave. and visit this super cool space. Youll be glad you did. And you can check out the progress of the LBW&L building while youre in the neighborhood.
Art By the River-Stroll along the River Trail by the City Market and enjoy the 10 sculptures (by Michigan artists) recently unveiled.
Arts Council of Greater Lansing in Old Town-Stop in and see this lovely spot right on Turner St. (Well have our information tent set up right outside there, so you cant miss it!
The Artisans Circle-Head out to Williamston and discover this gallery, a co-op of artists who will be doing some demonstrations.
By The Riverside-Heres another fun project to make and take. Design your own mini-jewelry bag!
Craig Mitchell Smith Glass Gallery-Were sure youve seen Craigs beautiful glass works, but when you discover his gallery in the Meridian Mall, you will be astounded. For a mere $5, you can make a special glass pendant to wear home.
Great Lakes Artworks in Old Town- Heres another place to stop by for some crafty fun!
Lansing Art Gallery-The Michigan Society of Water Color artists have a wonderful exhibit. And dont miss the hands-on art activities in the education center!
MICA Gallery in Old Town-If you stick around on Turner St. youll be entertained by the Chalk-a-palooza musical puppet theatre, then head in to MICA Gallery for a puppet making workshop!
Old Town Lansing-Find the sidewalks covered in chalk works of art. No wonder Old Town is a hotbed of arts and culture!
Saper Galleries in East Lansing-This is a beautiful gallery filled with 1,500 works of art of every media for all ages!
(SCENE) Metrospace in East Lansing-Discover this art gallery and performance space right in the heart of downtown East Lansing!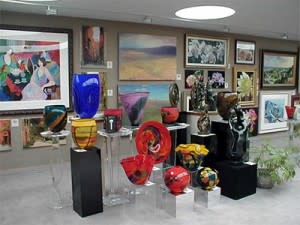 So is that enough art to enjoy in one day? If you dont get to them all, note that every first Sunday of each month from noon to 4 or 5 p.m., many of these galleries are open for a First Sunday Gallery walk. Its a perfect opportunity to have a nice Sunday brunch then stroll through the galleries. Im a firm believer in purchasing local art at local galleries. We have such a rich and vibrant arts community and its important to support both the galleries and the artists.