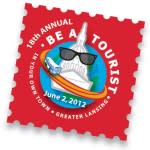 Be A Tourist in Your Own Town is coming up and we frequently hear the lament that theres too much to fit into one day. Well, then, isnt that a great problem to have? That Greater Lansing has such an abundance of things to see and do is a boon to our region. Since this is our 18th year of presenting Be A Tourist to you, let me assure you that theres always next year to catch what you missed this year or last year. Or, if you really dont know, let me clue you in to a little secret I keep. A great majority of these places are open for you to experience all the time!! Yep, its true. So here are some suggestions for you:
Pick an area or bus route to visit this year.
Visit the places that you normally have to pay an admission or go to the one day only venues.
Make up your own themed BATYOT, like Year of the Arts, Lets Get Physical or Just Us Animals. (more info in afuture blog.)
Experience Greater Lansings little known gems. I never knew that was here!
Explore Nature, Nature, Nature. Get Out!
Lets try #2! Visit the places that you normally have to pay admission.
If youre a bit strapped for cash and feel sometimes like it might break the bank to take the householdout for a fun day, heres your solution. Seriously, for $1 each, you can get the whole **fam-damily into many area attractions that normally charge you a fee for admittance. Like:
Abrams Planetarium
And heresmy suggestionfor the second part of #2! Do the One Day Only tours.
Only on Be A Tourist day can you get a tour of the Greater Lansing Potters Guild studio.
Or head behind the scenes at Cooley Law School Stadium.
Or experience what its like to sit at the news desk at LCC TV!
Or take a free sailboat ride at Lake Lansing.
So make sure to maximize your day on June 2nd and enjoy what Greater Lansing has to offer! You can make Be A Tourist translate into your own insiders scoop day and then boast to your friends that youve seen that, done that and been there! And all for just a dollar!
For more Be A Tourist information including maps, attractions, bus routes and more visit www.lansing.org/batyot. And 'like' BATYOT on Facebook http://www.facebook.com/BATYOT or 'follow us' on Twitter at http://twitter.com/GreaterLansing.
**The fam-damily word isa tribute to my dad. Gosh I haven't heard that in years.