Be A Tourist In Your Own Townis coming up and we frequently get the lament that theres too much to fit into one day. Well, then, isnt that a great problem to have? That Greater Lansing has such an abundance of things to see and do is a boon to our region. Since this is our 18th year of presenting Be A Tourist to you, let me assure you that there willalways be next year to catch what you missed this year or last year. Or, if you really dont know, let me clue you in to a little secretwe keep. A great majority of these places are open for you to experience all the time!! Yep, its true. So here aresome suggestions for you:
Pick an area or bus route to visit this year.
Visit the places that you normally have to pay an admission or go tothe one day only venues.
Make up your own themed BATYOT, like Year of the Arts, Lets Get Physical or Just Us Animals. More info in future blogs.
Experience Greater Lansings little known gems. I never knew that was here!
Explore Nature, Nature, Nature. Get Out!
Lets start with #1.
Pick an area or bus route to visit this year.Let's tryOld Towns yellow route!
Maybe you could make this year the year that you concentrate on a specific bus route or area. For instance, take the Yellow Route and plan on spending the day in Old Town. Stop in at historic Turner Dodge House, take in the puppet show across from the MICA Gallery or stop in to the gallery for a puppet-making workshop. Make a mini jewelry bag at By the Riverside or drop by the Arts Council to find out all they do to promote arts and culture in the area. Dont miss Absolute Gallerys fabulous art project or Great Lakes Artworks just across the street. Of course your visit to Old Town would not be complete without heading over to Preuss Pets. This is a destination all on its own. And although the bus does not stop directly in front of the followingplaces,head down Washington Avenue to visit Elderly Instruments. They will let you pet the instruments and you might even get a free kazoo! Keep heading south on Washingtonand stop into the Historical Societys brand new mini museum. There you will find some great displays and artifacts from Downtown Shopping in the 20th century. Remember Arbaugh's? Or Knapps? Take a glimpse into Lansing's shopping past.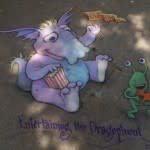 Heres my advice to you all whenever youre in Old Town. Poke your head in all the shops. Admire the architecture. Grab a little nosh at Sir Pizza Grand Caf or Pablo's. Pick up some popcorn at Cravings. Experience the wonder of Old Town in their Chalk of the Town exhibit with their sidewalks full of creativity and artistic expression.
And then on your way back downtown on the yellow routebus, dont forget to get off at the Lansing City Market stop. This is a great way to end the day with armfuls of fresh herbs, cheeses, breads, pastries and flowers.
What? The day is over? Well, you can always do the blue, redor green route next year. Arent we fortunate to have all those options? What a great place we have here, don't you agree?
For more Be A Tourist information including maps, attractions, bus routes and more visit www.lansing.org/batyot. And like BATYOT on Facebook http://www.facebook.com/BATYOT or follow us on Twitter at http://twitter.com/GreaterLansing.