This is a fun time of year. Sure its getting chilly, but who says thats all bad, especially when you think about all the fun activities that come around once the cooler weather hits. As we're in mid to late October, of course you're thinking about Halloween! Just about the only time all year you won't freak out if you look out the window and see a few zombies headed to your front door. How cool is that?
Well if you are a fan of Halloween, and c'mon, who isn't, there are a ton of fun things to do in Greater Lansing for this spook-tacular holiday. From haunted hayrides, to costume parties to all kinds of events, so many in fact, that we put together a special website just to lay out the cool Halloween fun going on. Check it out. Because there is so much going on though, I'm going to focus on just one of these great Halloween activities and that is Boo at the Zoo.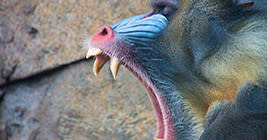 Boo at the Zoo brings all of the fun of Halloween to the Potter Park Zoo in Lansing, just off Pennsylvania Avenue. Perfect for little kids there are all kinds of activities from a straw maze, to a hayride, the boo tunnel and live animal demonstrations as well. It's really an awesome time and is really a two for one situation because you get all of the Halloween fun, plus a great zoo experience as well. Trick-or-Treat on the day of Halloween is fun, for sure, but if you can stretch out the fun and give your kids a chance to wear their costume more than just once, it's well worth it. If you go to PPZ (that's what the in crowd calls Potter Park Zoo), tell the Mandrill I said hello. The last time I was there I felt like we really connected.
So get out and check out all kinds of fall fun in Greater Lansing, but my recommendation for the day? Boo at the Zoo! Have fun!
Oct. 19-20 & 26-27, 2013 12:00 p.m. - 4 p.m. Potter Park Zoo