All eyes will be on Lansing as we host the 2016 Pure Michigan Governor's Conference on Tourism April 17–19, 2016 at the Lansing Center! Help Greater Lansing put its best foot forward and say: WELCOME!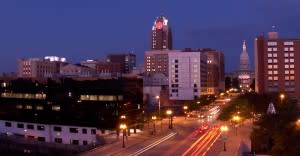 Did you know visitors that come to Greater Lansing conference centers in Michigan have a big impact on our local economy? The Greater Lansing Convention and Visitors Bureau (GLCVB), the local non-profit organization charged with marketing Michigan's Capital region as a leisure and meetings destination, worked with hundreds of visiting groups in 2015.
Our Wonderful Visitors Help Our Economy
Those visitors poured nearly $20 million into our local economy through spending on lodging, dining, shopping, and attending events at conference centers in Michigan. Local tourism statistics bode well for future growth. The Greater Lansing region experienced a 4.6% increase in area lodging occupancy in 2015, posting a rate of 61.1%, up from 58.4% in 2014. Records show that the Greater Lansing region was also able to demand more revenue per hotel room than ever before, boasting an average daily hotel room rate of just over $98. When demand for lodging in an area goes up, the cost per room also rises, and it's a solid indicator of the overall health of the tourism industry in that region.
Tourism at a Ten-Year High in Greater Lansing
With the state of tourism in Greater Lansing at a ten-year high, the region is in a great position to welcome the annual state tourism conference to Greater Lansing. The 2016 Pure Michigan Governor's Conference on Tourism will be held at the Lansing Center April 17–19, 2016. Over 1,000 tourism industry stakeholders from across the state will come for three days of learning, networking, and fun in Michigan's Capital City. It's an excellent opportunity to showcase our local spirit and the numerous offerings in Greater Lansing to the state's tourism professionals. Are you a manager or an employee of a downtown Lansing business? April 17–19 will be a time to really showcase your business and the growth of downtown Lansing to these tourism and destination-marketing-minded conference attendees at one of the best conference centers in Michigan!
What can you do to promote business and help Lansing put its best foot forward? Run some specials! Put on extra staff! Remind everyone of the importance of great customer service! Expand your hours to make sure your awesome offerings are available to this group! If you are a member of the Greater Lansing CVB—this is what you joined for! The opportunity is there to know about big conferences at the renowned conference centers in Michigan and to market your business to these out-of-town customers looking to eat, shop, and experience a new city. Take advantage of it and also put your Greater Lansing CTA pins on and show the rest of the state no one does customer service like Greater Lansing, Michigan!