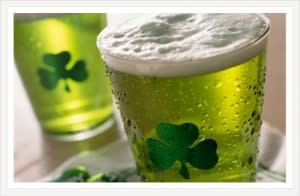 Theres nothing better than when March arrives and the Midwest is finally feeling like there really IS a possibility that Spring on the horizon. We emerge from our cocoons, aching for sunshine and above freezing temperatures and peer longingly past the left-over crusty snow banks in search of future festivals and warm sun-baked days ahead. And there it is. Straight ahead. St. Patricks Day is right on the horizon. Recalling warm St. Paddy days filled with green beer and happy times and paying no attention to the memories that may be packed away of sleet and cold, we eagerly look forward to the day when everyone pretends that theyre Irish and days infused with good spirits. That day has finally arrived.
Whats on tap for St. Patricks Day in Greater Lansing, you ask?
How about the Grand Ledge celebration Friday through Sunday complete with Irish dancers, dinners, bagpipers, an Irish Stew cook-off and a Saturday parade for the whole family? A tip o the hat to Grand Ledge for this super-fun event. Dublin Square, The Black Rose and Claddagh Irish Pub are fine local establishmentsthat are Irish all year long and offer great fare such as corned beef and cabbage, bangers and mash, Dublin coddle, Guinness baked Mac & Cheese and Shepards pies. Or how about a little pub crawl on Tuesday dubbed St. Pats on the Square involving Troppo, Tavern + Tap and The Black Rose. Punch cards available and t-shirts awarded. Of course its always an adventure to hit up East Lansing whether its for St. Practice Day (those apparently are the days leading up to the 17th when you practice your green beer drinking skills) or for the actual St. Patricks Day festivities. There's plenty to choose from and it's a celebration for sure. So grab your favorite lad or lassie and Erin Go Bragh!
Check out our webpage with all the St. Patricks shenanigans going on in the area. Were keeping it updated so check back often. The fun begins this weekend and lasts through the 17th.
Here are a few Irish sayings and proverbs to get you in the spirit:
1. May the luck of the Irish be with you!
2. Here's to a long life and a merry one. A quick death and an easy one. A pretty girl and an honest one. A cold pint and another one!
3. If youre enough lucky to be Irish... Youre lucky enough!
4. May you have the hindsight to know where you've been, the foresight to know where you are going, and the insight to know when you have gone too far.
Greater Lansing offers over 150 things to do. With only 48 hours in a weekend, the clock is ticking. Download the LAN150 Bucket List to get started.