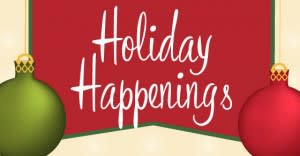 Located just west of Lansing down M-43 is Grand Ledge in my humble opinion, one of the most charming of the surrounding communities that complement events in mid-Michigans capital city. Grand Ledges downtown holiday streetscape takes you back in time to a by-gone era. This weekend youll want to head there for the following events in mid-Michigan:
1. Grand Ledge Holiday Traditions (December 5 & 6) Travel to holidays past as you visit historic Victorian homes and the museum. Also stop by a few more events in mid-Michigan to see the 1928 Barton Theater organ, the Holiday Market, festive tables, and decorated trees all at the Opera House.
2. Grand Ledge Christmas Parade (December 4) at 7 p.m. Boundless family entertainment to kick off the holiday season with a Lighted Float Parade starting at the fire barn, going across the bridge, and ending with Santa at the Sun Theater.
3. Michigans beloved Three Men and a Tenor (3MT), an internationally touring comedic vocal music sensation will bring their hilarious, holiday-themed show called the HA HA HOLIDAYS Extravaganza with Three Men and a Tenor. (December 5) At the Grand Ledge High School.
There are more holiday events in Mid-Michigan this weekend, such as:
Winter Glow in East Lansing. (December 5) Find horse and carriage rides, reindeer petting, ice sculpting, an outdoor farmers market, and tons more.
MSU Holiday Arts & Crafts Show. (December 5-6) I try and make it to this show every year. Four floors of the MSU Student Union packed with arts and crafts vendor booths. Awesome. Easy to score some handcrafted Spartan items.
Williamstons Annual Light Parade. (December 5) The parade steps off at 6 pm, with illuminated floats and vehicles, marching band, animals, and more! After the parade, Santa and Mrs. Claus will help with the lighting of the tree in front of City Hall.
And then theres Christmas-themed theatre!
Williamston Theatres Jacob Marleys Christmas Carol
Riverwalk Theatres Charles Dickens A Christmas Carol
PLUS
Handels Messiah at Wharton Center for Performing Arts. (December 6) Composed 274 years ago, Messiah, which includes the famous Hallelujah Chorus, continues to be one of the worlds most popular works. Choral Union, University Chorale, and State Singers share the stage with the MSU Symphony Orchestra to continue this powerful holiday tradition.
Here are even more Holiday events and happenings going on in Greater Lansing.
Did you know that Greater Lansing offers over 150 things to do? With only 48 hours in a weekend, the clock is ticking. Download the LAN150 Bucket List to get started.