New challenges sometimes just fall from the sky – or maybe the heavens, in this case.

About a year ago, our supervisor challenged me, Heather Cooper Kim, Faith-Based Sales Manager with the Greater Lansing CVB, and my fellow sales manager colleague with the CVB, Brenda Haight, to find a new way to grow faith-based conferences and events in the Greater Lansing area. We didn't only want to host more faith-based events, we wanted a better way to reach out to local contacts, to get to know them and their needs better so we could be more useful to them so they might think of the CVB when an event-planning need arrived. We had run ads before and done eBlasts and social media stuff. This time we wanted to do something different. When we brainstormed with marketing a new idea was born. Instead of trying to get the word out about Greater Lansing and the CVB through traditional advertising, why not host a community "give-back" event and invite all the faith-based community leaders that we'd like to reach?

What better way to educate our faith-based community on what we do and how we can partner with them to bring in their events to our community than involving them in making an impact on our local children? Together with key faith-based organizations we formed a core committee to begin planning, sort out logistics and establish goals. One of our first questions was, what would be the best way to put our event to use? We learned through research about the key needs for the community that 1 in 4 children don't know where his or her next meal is coming from. We all agreed this was our mission and set a goal to stuff foodpacks on November 2nd at the Lansing Center. How many would we be able to pack? We wanted to make a big impact, so we set our sights high, counting on major volunteer support, and took the challenge of 100,000 food packs. Yup. One hundred thousand. That's 100,000 food packs done in a 4-hour event, so that's 25,000 packs in an hour and about 417 packs every minute. Sounds like a lot of work doesn't it? Not when you have it down to a science and have plenty of loving hands to make the work fly by. Want to be a part of it? We were hoping you'd ask!


Join the Faith in the 517 group on Saturday, November 2nd from 8 a.m. to 1 p.m. at the Lansing Center. There is no cost to participate, but donations are gladly accepted to go toward the cost of the food packs. When buying in the bulk numbers we're talking about, one dollar can cover about 15 meals! In addition to the fellowship of the food pack, the Faith in the 517 group is offering a FREE Autism Awareness Training. Did you know 1 in 59 children will be diagnosed with autism spectrum disorder? Learn more about ASD and how you can be a supportive and positive force in your community for those on the spectrum. Lastly to round out the morning, all participants will enjoy a performance by the captivating Christian Illusionists, David Laflin & Family. Laflin offers a life-changing message with incredible effects and breath-taking illusions for all ages.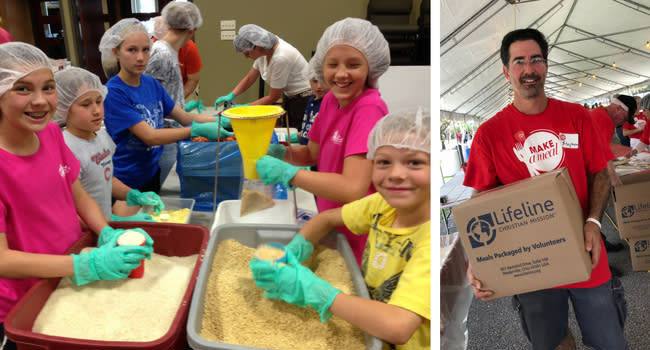 TENTATIVE SCHEDULE:
Friday, November 1, 2019 | 6:00 p.m.
Team Leader Orientation and VIP Reception
Saturday, November 2, 2019 | 8:00 a.m.–1:00 p.m.
Food Pack, Autism Awareness Training & Entertainment

This event has become bigger than us and a true testament to God's plan working in the Greater Lansing area through us and our community. Contact us today to learn more about getting involved with this fantastic opportunity to give!
PHOTO CREDIT: Lifeline Christian Mission