The Greater Lansing Convention and Visitors Bureau (GLCVB) held its annual meeting on February 22nd, and announced both good news for the local economy and recognized numerous individuals with awards for vision, dedication and loyalty throughout the year.
The Greater Lansing region experienced a 1.72% increase in year-to-date area lodging occupancy, breaking last years record high for a new community record of 65.1%, according to Smith Travel Research (STR) data. Additionally, the Greater Lansing region experienced a 3% increase in Average Daily Rate (ADR), or average cost per available hotel room. In 2017 ADR was reported at $106.32 compared to $101.82 in 2016. The numbers from 2017 show the fifth consecutive year that both overall demand for regional hotel rooms, and the rate area lodging partners can charge for them, both went up; Unequivocally the main indicator of a healthy hospitality and tourism market.
 "We've enjoyed another record-breaking year in the area," said Jack Schripsema, President and CEO of the GLCVB. "Last year's benchmark success of just over 1 million hotel room nights consumed was surpassed by 5,000 additional rooms consumed in 2017. This record-breaking visitation should be celebrated by the entire Greater Lansing hospitality community."
The GLCVB also honored community partners with awards at the annual meeting event. The organization formally recognized its Sports Partner and Volunteer of the Year, Community Champions and two Milestone Awards.
The GLSA was proud to recognize the Lansing Center as Partner of the Year and Kelly Shaw as Volunteer of the Year. The Community Champions program was created to recognize local residents for helping to secure/advocate for, group business in the Greater Lansing area. Those recognized as 2017 Community Champions were; Matea Caluk, Brad Rowe, Amy McCausey, Waylon Sanford, Two Men and a Truck and the Waverly Lacrosse Club. Members of the GLCVB Ambassador staff as well as Executive Vice President and Chief Operations Officer Julie Pingston were recognized for 25 years with the CVB.
Sport Partner of the Year – The Lansing Center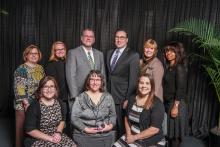 A community's ability to host sporting events directly correlates to the facilities available. A host city needs to have a diverse array of quality facilities, the more flexible the better. When you think of the Lansing Center you probably think of tradeshows, conferences and public shows, but it's quickly establishing itself as a go-to facility for many types of sports events in recent years. Wrestling has become a boon for the region, thanks to the flexible space the Lansing Center offers. In 2017 alone the facility served as host to three wrestling events that attracted nearly 6,200 athletes and approximately 32,000 spectators. These events would not be possible in our region without the flexible space at the facility and creative and accommodating nature of the Lansing Center staff.
Volunteer of the Year – Kelly Shaw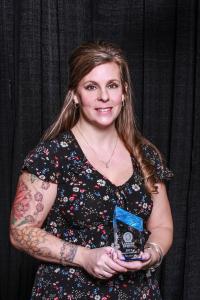 Volunteers are the lifeblood of the events we host in Greater Lansing. In many occasions the events that occur in the region rely on not just volunteers, but volunteer leaders to coordinate events. These special individuals typically have day jobs, are often parents and still find the time to contribute uncountable hours and energy to ensure events are a success. Kelly Shaw has four children, a full-time job, and on top of all of that she coordinated two incredibly successful, high-profile events in 2017. These events brought world-class athletes to Mid-Michigan. Between the two events Kelly coordinated staff and volunteers in the hundreds, and serviced 1,800 athletes, bringing over 6,000 spectators to the community. Please help me in thanking Kelly Shaw for her contributions to our region.

Community Champions
 
Matea Caluk, M.Ed.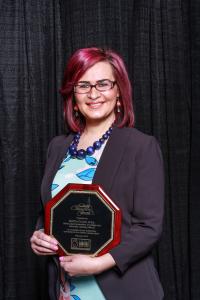 Assistant Director for Residence Education, South Neighborhood
Residence Education and Housing Services
Division of Residential and Hospitality Services
Matea Caluk worked to bring the 2019 GLACUHO, Great Lakes Association of College and University Housing Officers annual conference to Lansing. This event will bring close to 500 Housing and Residence Education professionals from multiple higher education institutions all over the Great Lakes region to engage in conversations about student success and better serving residential students.
Brad Rowe, Ph.D. (Not Pictured)
National Association of Landscape Professionals' National Collegiate Landscape Competition
The Greater Lansing area last hosted NALP's Landscape Competition in 2017 and the event will return in March 2020. This is an annual three-day competition and networking event for students enrolled in interior and exterior horticulture programs at two- and four-year colleges and universities from across the country. On average, sixty-two college teams, a total of 770 students, participate in roughly 28 individual and team competitions where they demonstrate their skills in real-world, competitive events coupled with an outstanding Career Fair.
Amy McCausey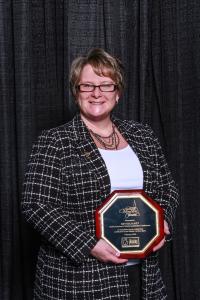 North American Particle Accelerator Conference
NAPAC brings together over 500 experts in all fields of accelerator science and technology. It is the largest domestic particle accelerator conference in the country and covers the entire spectrum of accelerator science and technology topics. Amy is the Projector Coordinator for MSU's Facility for Rare Isotope Beams (FRIB) and she and her team are partnering with the Institute of Electrical and Electronics Engineers and the American Physical Society on this conference. FRIB is a scientific user facility for the Office of Nuclear Physics in the U.S. Department of Energy Office of Science (DOE-SC).
Chris Bortnichak (Not Pictured)
Training & Development Team Lead
Two Men and a Truck
Chris Bortnichak brings dozens of associates from this national company to the Lansing area for overnight trainings multiple times a year. This includes their largest Michigan event, a frontline staff training that brought 300 attendees to the area last November. Through Chris' work, Two Men and a Truck has had a great impact on our hotel community continuously choosing to host trainings and education in the Greater Lansing area.
Mia Keefer - Waverly Lacrosse Club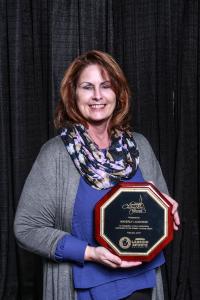 Before the Waverly Lacrosse Club got started hosting events over 10 years ago, there were no lacrosse related events taking place in Lansing. The Chuck Vorce Memorial Festival and the Middle School Festival bring hundreds of teams and thousands of athletes and spectators to the region. The Waverly Lacrosse club has pioneered the growth of Lacrosse in the Lansing Region and has provided the road map for other sports in the region to follow.
Waylon Sanford - Capital City Crisis Rugby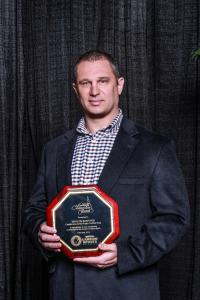 Under the direction of Waylon Sanford and through his leadership with the Capital City Crisis Rugby Club, the GLSA has partnered to host the 2017 Michigan Rugby Cup for the first time in Lansing-with it set to return in 2018. In addition to the Rugby Cup, Waylon is supporting GLSA efforts to host two premier USA Rugby events and continuously uses his influence and connections to position the Capital region as a destination for Rugby events.