The Greater Lansing Convention and Visitors Bureau (GLCVB) is proud to announce its was recently awarded Best Large CVB by the members of the Michigan Society of Association Executives (MSAE) at its Annual Association Choice Awards held last November at the East Lansing Marriott at University Place in East Lansing. This is the second year in a row the honor has been bestowed upon the GLCVB.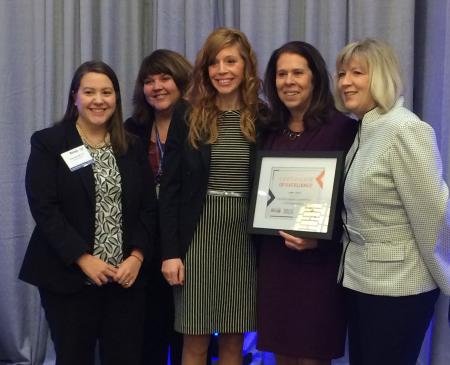 "Our organization takes great pride in this award," said GLCVB President and CEO Jack Schripsema. "To be able to bring this Best Large CVB award home for two years in a row shows that our dedication to colleagues in the statewide association meetings industry is being recognized. We look forward to continuing to provide the service excellence to visiting groups that won us this award for many years to come."
Additional GLCVB members and Greater Lansing hospitality partners recognized at the event were the Kellogg Hotel and Conference Center/Spartan Hospitality Group (Best Lansing Hotel) and Art Craft Display (Best Expo/Décor/AV Services).
For more information about the 2017 MSAE Association Choice Awards visit www.msae.org/ACA. For more information about the GLCVB and Greater Lansing as a premier meetings and events destination, visit www.lansing.org/meetings/.
Photo Cutline: Staff of the Greater Lansing CVB join Cheryl Ronk, Executive Director of the MSAE, to receive an award for Best Large CVB, as voted by MSAE Members Left to right; Kristy Doak, Brenda Haight, Amanda Toy, Cheryl Ronk and Mary Chris Hotchkiss.