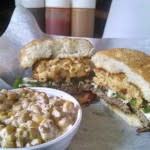 Love comfort food? So do I! Recently I asked for some suggestions from fellow #lovelansing people about where to find delicious comfort food in town. I wanted to know where they go and what they love. The best forum to ask a question is on Facebook hands down. I was delighted at the enthusiastic replies. Thank heavens for people who have a passion for their cityand their food. They make the Lansing area an awesome place to live, work and.well, to eat.
Here is a little compilation of some of their suggestions:
Kristina: Sweet Lorraine's Fabulous Mac N' Cheez. The grilled cheese sandwich with mac and cheese on it! The best food coma ever. And you can add toppings inside that sandwich.
Jennifer E: MEAT (in Old Town)! Yum! The mac and cheese is amazing! You get two mix-ins. I get bacon and red peppers in mine. So good! Oh and my husband LOVES their meat fries...mmmm bacon gravy, yumshoe string style french fries topped with chopped pork, brisket, bacon, bacon gravy, cheese! They're amazing.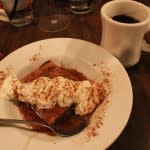 Jennifer E: I thought about Soup Spoon as well. It's another of our favorites and I think it could certainly be considered comfort food depending on what you order there. If you go there you have to try the Bread Pudding. It's my favorite bite of food currently in existence. I joke with my husband when we're there that I just want to order two or three bread puddings for dinner and dessert.
Katie: Claddagh Irish Pub Shepherds Pie
Jennifer: My husband is a fan of Tom & Chee. He loves their Hippy Chee and chunky tomato soup.
Iris: Oh Oh oh Roma Bakery. And Panera soups.
Ariniko: Oh Deluca's Shrimp Artichoke pizza!!!! Yes! And Mitchell's Fish Market's Tuna app.
Timothy: Deluca's house deep dish. Jersey Giant #7 with red pepper relish. What up Dawg's Detroit Coney.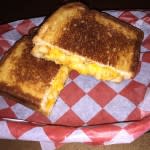 Jan: Comfort food screams Mac N Cheese. Meat, Tom + Chee and Sweet Loraine's come to mind
Kristina: Cant go wrong with Delucas spinach pizza. Mmm
Julie: For me...Chicken Pot Pie soup at Zoup!
Brandie: Mac and cheese - Sweet Lorraine's and Great Harvest. Oh and grilled cheese from Tom + Chee!
Chad: I want all of these things right now
Well, Chad, I want all of these things right now as well. This post is making me soooo hungry. Now I have a big selection of places and dishes to try. Its a comforting thought.
For a whole list of great places to eat in #lovelansing, visithttp://www.lansing.org/visitor/restaurants.