The Greater Lansing area is home to some spectacular breweries serving up a variety of craft beer that is sure to satisfy any palette. And this month, you can win a prize just for visiting some of the great local breweries around Lansing during the February Greater Lansing Beer Trail!
How it works
Just head to any of the 11 participating breweries, ask for a beer trail card, and bring the card with you to each brewery for your server to initial and date. Once you've completed the beer trail, give your card to the server at the last brewery you visit. If you visit all 11 breweries by the end of February, you win a special prize!
Ready to get started? Here's a look at some of the stops on the Greater Lansing Beer Trail.
Ozone's Brewhouse
Situated in a repurposed warehouse, Ozone's Brewhouse is a father-son collaboration that brings liquid art to the Old Town neighborhood. The Brewhouse features twelve taps, six of which rotate in new beers every two weeks. Take a seat in the enclosed patio, sip on mainstays like Kryptonale, Totally Awesome #3 IPA, or the non-alcoholic Hop Water, and even enjoy some local brick oven pizza.
BrickHaven Brewing Company
BrickHaven Brewing Company is housed in an old, renovated church, west of Lansing in Grand Ledge. Visitors will find a variety of rotating taps such as the BrickHaven Stout, Onyx Edge Black IPA, Rock Island IPA, Huggy Bear Brown, and Aisle 3 Ale, as well as a full menu of starters, sandwiches, soups, desserts, and more.
The brewery is ADA compliant and features a cozy beer hall, perfect for getting out of the cold!
Looking Glass Brewing Company
Located ten minutes from Lansing in the heart of DeWitt, Looking Glass has repurposed a historic church into its unique brewery. Admire the stained-glass windows or the seasonal Biergarten as you taste award-winning drinks like the Pink Lady, Mad Hops DIPA, and the newly released Kitchen Sink IPA. If you're feeling hungry, Looking Glass offers a seasonally updated lunch and dinner menu complete with sandwiches, platters, wings, flatbreads, and more.
Lansing Brewing Company
One of the Capital City's first breweries, Lansing Brewing Company is a full-scale production brewery with 12 beers on tap. Local favorites include the Angry Mayor IPA and the beer that started it all back in 1898, Amber Cream Ale. The menu includes local favorites like street tacos, pizza, a mouth-watering hot chicken sandwich, and more. 
During the warmer months and into fall, LBC's outdoor patio is a popular downtown Lansing hang-out. To learn more about how the brewery started, check out our video on the Greatest Eats in Greater Lansing below.
EagleMonk Pub and Brewery
Even if you're only in Lansing for the weekend, EagleMonk Pub and Brewery will give you that hometown pub feeling, where everyone is treated like a local. Locals enjoy craft brews like the Easy Blonde Ale, Red Eye Rye, and more on the rotating tap list. Stop in, have a beer, and play a game of foosball, shuffleboard, or darts; there's fun for everyone! 
EagleMonk offers a lifetime mug club membership for just $75, which includes your first pour, an original mug from a local artist that will join the rest of the mugs hanging from the ceiling, and exclusive weekly deals. While you're completing the February Beer Trail, plan your visit during one of several live music nights throughout the month!
BAD Brewing Company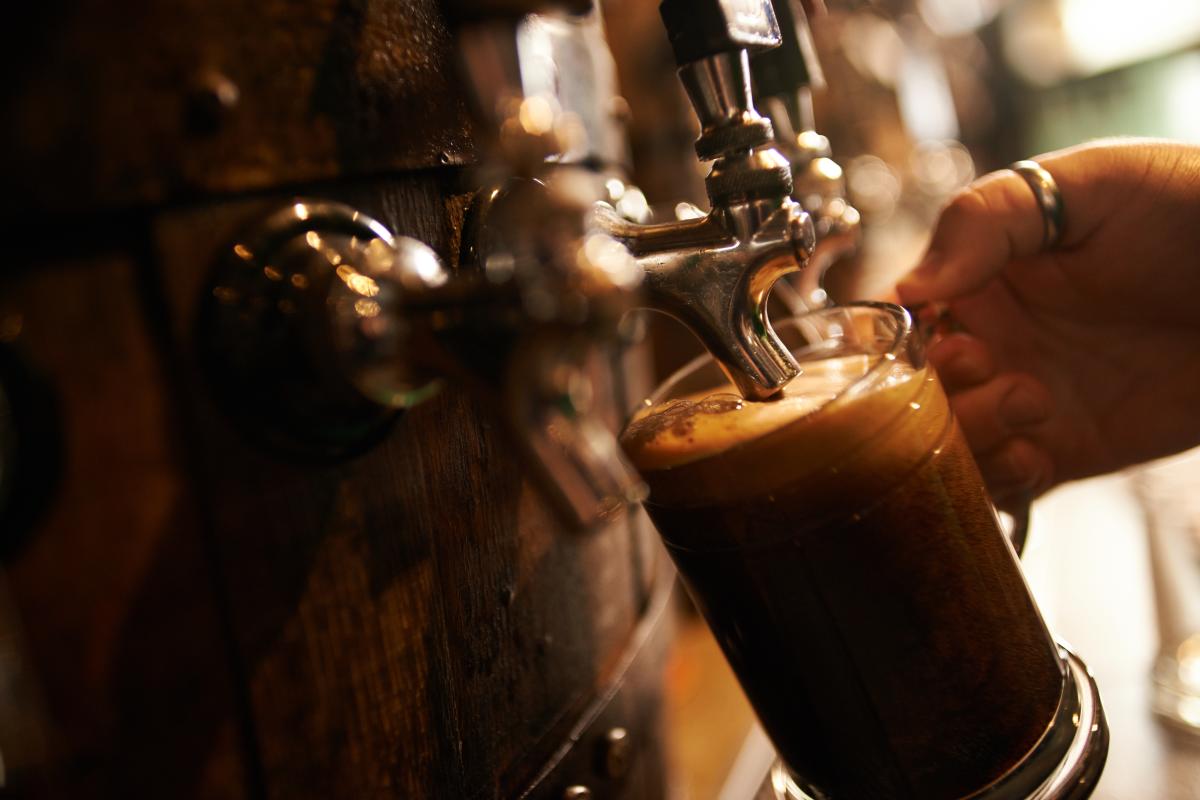 Located in Mason, just 15 miles outside of Lansing, BAD Brewing has a full food menu, 24 rotating taps, and frequent events. Whether you prefer IPAs, sours, hard cider, or even seltzer slushies, you'll find something you love on the menu.
You can enjoy your food and beer in the brewery's cozy indoor seating area, or outside on the sizeable patio, which has plenty of tables, a couple of fire pits, and igloos during the winter months.
These are just a few of the participating locations on the Greater Lansing Beer Trail. Check out the rest below!
Sanctuary Spirits
ConfluxCity Brewing
Whether you prefer enjoying a microbrew in a historic building or pairing made-from-scratch foods with uniquely crafted beers, Greater Lansing has the brewery for you. Check out our breweries page for more details. Cheers!
Photography: Special thanks to Tom Gennara and our #lovelansing community for their awesome imagery and social media posts.