Baby, its COLD outside! And its the perfect time to bundle up, hop in the car and head to the movies. Are you ready for a new movie experience? Ive got the hottest place for you to try out.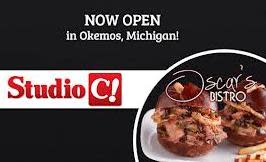 Do you know what makes me happy? Well, among other things, a good movie, a good meal and a good glass of wine would be a start. Add a recliner and a waiter and I am one happy camper. Even better? A giant screen to view a great movie on. Such is the case for the newly opened Studio C! I hit this multiplex to catch one of the new releases over the holidays and had a very happy experience. Most of the theater has awesome comfy regular seating, but along the sides are the pairs of recliners and, wait for itbuttons to push for the wait staff. Yes, I said wait staff. Its definitely upgraded seating (and I feel) well worth the price of admission.
And with menu items such as Some Like It Hot Wings, The Italian Job pizza and The Cobb-it you cant help but smile and happily order. Heck, you can even get a Miller Lite or some Bells, Founder, and some other great beers. Or wine. Or how about a Tequila Mockingbird cocktail? Have I sold you yet? Seriously, all I need is a fleece throw and a pair of slippers and Id move in.
Find Studio C! right next to the Meridian Mall in Okemos.
Tip: Call ahead or go online to purchase your tickets. There is assigned seating and the premium seats go fast
For even more cinema options in the Lansing area, including the new Extreme theater at NCG Cinema, the IMAX theater at Celebration! Cinema and more,check out our website www.lansing.org.