7th Annual Great Lakes Cider & Perry Festival Returns to Uncle Johns Cider Mill, September 6
Well, summer may be winding down, but there is still something going on and its hotter than blacktop on the 4th of July? What am I talking about, you might ask? I'm talking about the public out-cry for craft beer and especially craft brewed Hard Ciders! In fact, craft cider is the fastest growing beverage in the market these days, and to celebrate this growing Midwest passion, the 7th Annual Great Lakes Cider & Perry Festival returns to Uncle Johns Cider Mill on September 6th at 8614 N US 127, St. Johns just north of Lansing.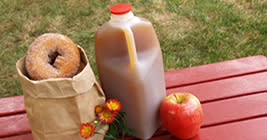 What can folks new to this craze expect? How about more than one hundred different ciders and perrys (perrys are cider varieties made from Pears. How awesome is that? I never knew that even existed, but sounds pretty good.), from dozens of producers from throughout the region will be available for sampling on Saturday, September 6. This annual sampling, along with great food and live music, is presented by the Great Lakes Cider & Perry Association. The event runs from 1 p.m. to 7 p.m. and tickets to attend are just $15 per person, which includes a commemorative glass and 10 sample pours. Group tickets are also available for general admission ($25 for 2 tickets | $40 for 4 tickets | $75 for 10 tickets). All profit proceeds from the festival benefit the Great Lake Cider & Perry Association (est. 2008). Tickets will be available at the gate or may be reserved in advance online at www.greatlakescider.com. Individuals interested in volunteering at the event should contact Mike Beck at 989-640-2763 / mjbeck@ujcidermill.com.
So yes, you've got a special craft cider event going on this Saturday September 6th, but another bonus is that its being held at the mid-Michigan Mecca of all things apple, fall, pumpkin and Mum - Uncle John's Cider Mill. It's an understatement to say this place is a local staple. Fun seasonal events and food and drink have woven this institution into the lexicon of the community. It just isnt fall until you get out to Uncle Johns and have a cinnamon doughnut and a glass or two of the freshest apple cider you'll find. As Halloween approaches Uncle John's has a bunch of family focused events that will make you change your tune about the sad passage of summer. In fact, you'll smell the campfire, see the fall color, taste the fresh apples and all of a sudden you'll be all about fall.
Get to Uncle John's this weekend for the 7th Annual Great Lakes Cider & Perry Festival. It's the easiest math you'll ever do, and it always comes out right: Great Apples + Great Lakes = Great Cider!