If you are an art aficionado you've most likely seen it in the news. If you've been through town for a Spartan Football game or are a resident of the Greater Lansing area, you've likely driven or walked past it over a dozen times already. What is it, you're wondering!? What is this big, shiny thing near the intersection of Grand River and Bailey Avenue? Well, that depends, because WHAT IT IS, is not exactly WHAT IT LOOKS LIKE.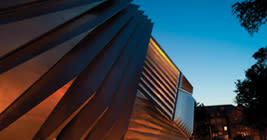 First lets get out in the open what it looks like. It looks like a big metal shark with a huge gaping mouth full of pointed teeth. It looks like a chrome pirate ship that is waaaay off shore. It looks like the world's largest cheese grater. Maybe most of all it looks like an alien spaceship that has landed and it's occupants are now invading East Lansing. Now, is it any of things? Of course not. What IT IS, is the incredible, dynamic and brand new Eli and Edythe Broad Contemporary Art Museum now open to the public at large in East Lansing, Michigan.
As it turns out this incredibly unique looking structure is as much a piece of art as the treasured pieces displayed inside. I got a chance to see the building up close and personal for myself this past weekend and let me say the museum is as cool looking on the inside as it is on the outside. Chrome and glass and cement and steel create angles and visual sight-lines that truly inspire. Inside the museum you'll encounter everything from contemporary pieces that really challenge your mind, to select oils, photography and water-colors by well-known artists from Dali to Warhol. Painted pieces, three-dimensional pieces and stirring digital media pieces will get you really thinking and inspired to be and act creative. Sadly that is a feeling that doesn't come easy these days. I highly suggest a trip to visit the Broad Art Museum and the free admission (donation suggested) just shows that the Broad's wanted this to be a gift to the community, and it absolutely is that.
Yes, the museum is very unusual looking. No it doesn't fit into the classic collegiate landscape of Michigan State University, and that's the point. The Building is art too. So while there has NOT been an alien invasion on the campus of MSU, there has been an invasion of art and its a gift to us all. Find out more information at www.broadmuseum.msu.edu.