I dont know what I was expecting when I headed to Williamston to lunch at Gracies Place. I had heard some good things, second or third hand, but I have to share that new all-the-rage places have a tendency to disappoint me. Sometimes I feel the need to be a regular cool kid to get the great service and experience that Ive heard all about (from the regular cool kids.) Well, at Gracies, I was pleasantly surprised.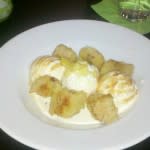 Gracies Place sits on the corner of Putnam and E. Middle Streets and just a block south of Williamstons main drag-Grand River Ave. From the pretty little glass vases filled with flowers on each table, to the tin ceiling and beautifully exposed brick wall, I could tell that everything had a completely professional yet comfortable vibe. We settled in at a table near the counter area that overlooked the workers assembling the orders. I ordered the portion soup and salad combo. I chose sweet potato soup andthe Cranny Salad. My companion had the Macaroni and Cheese and the tomato basil soup. The portions were modest but the taste was fabulous. I actually savored every single bite I took and did not finish my lunch needing a small cot and a hand to rub my bloated belly while I napped it off. I even indulged in a dessert, which I normally don't have room for. They all sounded sumptuous butI went with the Plantain Split. The plantains were fried up in a light tempura batter and still warm accompanied with cold vanilla bean ice cream with caramel drizzles and some crushed pineapples on top. I cant begin to tell you how much I enjoyed that. Let's just say, alot. I enjoyed it alot. In factwriting about it makes me want to have just a bite. Right now.
This is what is written on their website:
Our food is fresh, original, unforgettable. We make everything we serve from scratch in our kitchen, with impressing you as the top goal. We always offer a wide variety of entrees to please any appetite and our scrumptious desserts are enough alone to bring you back for more.
Mission Accomplished. I am impressed and will be back soon. Thank you.