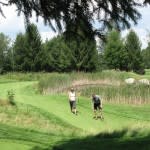 Now that my kids are grown, I feel like I no longer have to endure an afternoon or evening of goofy golf with windmills and clown mouths and disappearing balls popping up in unexpected places. Hey, I never implied I was ever mother of the year, did I? And I realize that some people love to play miniature golf at any age. Thats fine, just not my thing. But last weekend I was askedto go golfing. On a date. Now, I have to preface this with the fact that Im not a golfer. I wish I had the time and money or even the inclination to become one. I will add that to my bucket list along with barrel racing.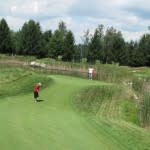 So with that said, for our golfing excursionwe decided to meet each other halfway between the big boy course and little kiddie course and head over to Little Hawk for a nice putting game. This bent-grass course averages a par 3 or 4 for most holes and makes great use of its location by doubling back on itself to fit in the 18 holes. You can find it tucked back beside the clubhouse at Hawk Hollow on Chandler Rd. in Bath. It comes complete with a water hazard, a couple of angry redwing black birds that were sure we had come way too close to their nest and some well placed sand traps. I would like to thank my date for using his putter as a wedge to get me out of that sand trap and back on course in one stroke. There are small hills and curves and I think we spent about an hour or so to complete the 18 holes at a leisurely pace. It was fun and relaxing and is a good place for golfers who would like to practice both their long and short putts but are bored easily by the putting green available at most courses. It also put to rest any grandiose ideas that I had of taking up the sport. And the cost was a mere $8 which makes it an extremely affordable attraction. Sign me up as a devotee of the putt-putt deluxe at Little Hawk.
Golf seems to me an arduous way to go for a walk. I prefer to take the dogs out. ~Princess Anne of Great Britain.