LANSING, Mich.-- The Greater Lansing Convention and Visitors Bureau (GLCVB) is pleased to announce it has hired Lauren Williams, CTA as Manager of Graphic Design and Content Marketing.
Williams comes to the GLCVB from Arbor Financial Credit Union in Kalamazoo and is a recent graduate of Alma College with a Bachelor's degree in New Media Studies. Williams will assist the marketing department with numerous graphic design, social media and web content projects.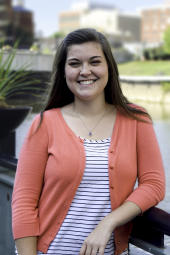 "We are pleased to welcome Lauren to the team," said Jack Schripsema, President and CEO of the GLCVB. "This is a very creative and talented individual who will serve the CVB well."
For more information about the GLCVB, visit www.lansing.org or call 517-487-0077.
The mission of the Greater Lansing Convention & Visitors Bureau is to positively impact the area's economy by marketing the region as a travel destination.
###