LANSING, Mich.-- The Greater Lansing Convention and Visitors Bureau (GLCVB) is pleased to announce it has hired Corri Harvey, CTA as Sales Coordinator.
Harvey brings over five years of local experience in hotel management and sales, working most recently with the East Lansing Courtyard by Marriott and is also a graduate of the Davenport College School of Business. Harvey's role with the GLCVB will be focused on supporting the efforts of the destination sales team.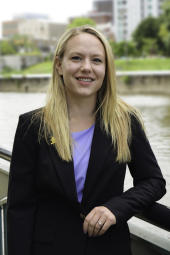 "We are pleased to welcome Corri to the team," said Jack Schripsema, President and CEO of the GLCVB. "She is an organized and talented individual who will serve the CVB well."
For more information about the GLCVB, visit www.lansing.org or call 517-487-0077.
The mission of the Greater Lansing Convention & Visitors Bureau is to positively impact the area's economy by marketing the region as a travel destination.
###