Let's give thanks to the folks who open their homes to host all the relatives and even some orphan friends. Let's toast the ones who get up at the crack of dawn to get the bird in the oven early, roll up their sleeves, bake up a storm, stuff and stir and produce a meal that gets rave reviews and a ton of oohs and ahhs from the whole fam.
Next, we lift our glasses and offer a Lansing takeout list for the folks who just love the holidays but want to avoid the mess and clean-up, the family drama about who brings what dish, the overcooked or undercooked meal or the unexpected kitchen fiasco. This is for those who still want to host a delicious meal and then head to the couch to enjoy the game. Cheers. We're thankful for all and wish you nothing but a delectable Thanksgiving Day.
Dinners To Go
1. Saddleback BBQ | 1147 S. Washington Ave., REO Town, Lansing | (517) 253-7556


Order Full or Half Turkeys with all the fixings OR you can also order just the Full or Half Turkey.
All meals come fully cooked and served cold and come with reheating instructions.
Choose 
Full Turkey Feast - Includes a whole smoked 15-18lb fresh Otto's Turkey, large containers of Mac and Cheese, Mashed Potatoes, Stuffing, Sweet Potatoes, a plentiful amount of Gravy, an assortment of Dinner Rolls, and a tin of corncake. Feeds 5-8 people.
OR
Half Turkey Feast - Includes a half smoked fresh Ottos Turkey around 8lbs, containers of Mac and Cheese, Mashed Potatoes, Stuffing, Gravy, Sweet Potatoes, an assortment of Dinner Rolls, and a tin of corncake. Feeds 2-4 People.
Full Turkey ONLY - A 15-18lb fresh Otto's turkey smoked to perfection.
Half Turkey ONLY - A 7-8lb fresh Otto's turkey
There's also a "Leftover Package" which allows you to purchase double the sides to ensure you have food left over for subsequent days.
Order online here https://www.saddlebackbbq.com/pages/saddleback-bbq-online-ordering
Pickup for these meals is on November 23-24th.
2. Lil G's | 2459 Ontario Dr., St. Johns | (989) 545-7090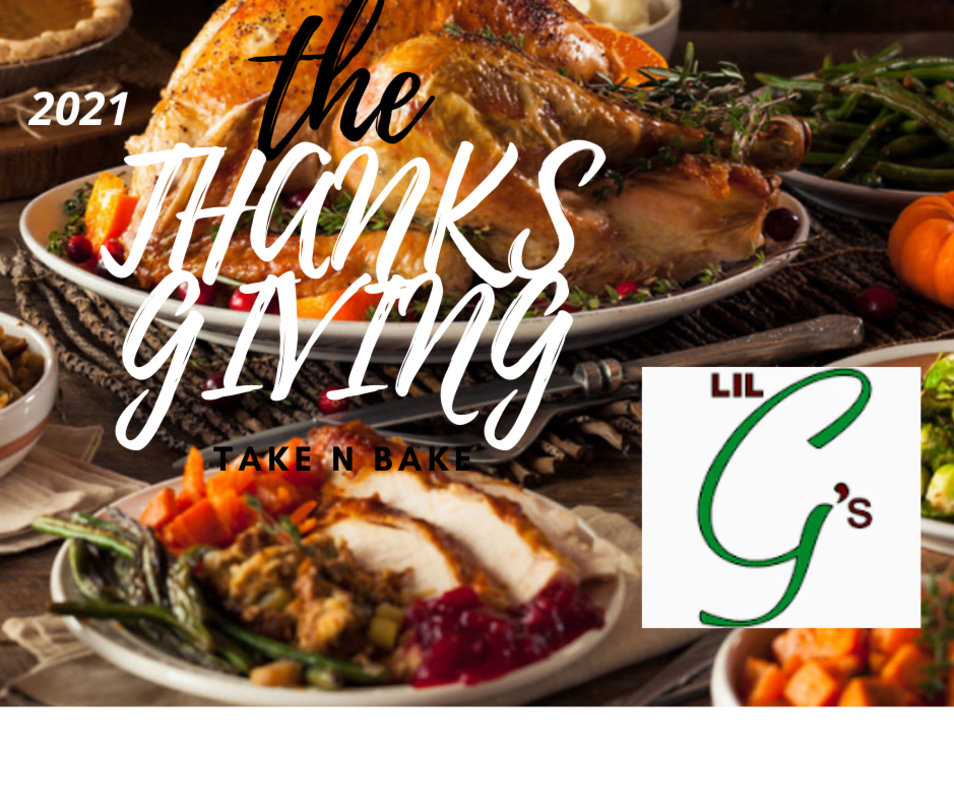 Gluten-free and Dairy-free
Thanksgiving Dinner Take N Bake. (Dinner for 2 ppl or 6ppl)
Turkey Dinner: Turkey,Mash Potatoes, Gravy, Green Bean Almondine, Cranberry Sauce, Stuffing & Cornbread. 
Add-ons include DF/GF Pumpkin Pie, GF Pumpkin Cheesecake, LIL G's Italian Salad, Extra Cranberry Sauce, Extra Mash Potatoes, Extra Gravy, Extra Green Bean Almondine, Extra Turkey & Extra  Cornbread.
All orders & payments due Nov. 20th and pick-up on Wednesday Nov. 24, 2021
3. Eastside Fish Fry | 2417 E. Kalamazoo St., Lansing | (517) 993-5988

Order a 14-16 lb turkey deep fried. Reserve your pickup time for November 24,25,26. Call today and reserve your spot.
(517) 993-5988
4. State Room Restaurant at Kellogg Hotel & Conference Center | 219 S. Harrison Rd., East Lansing | (517) 432-5049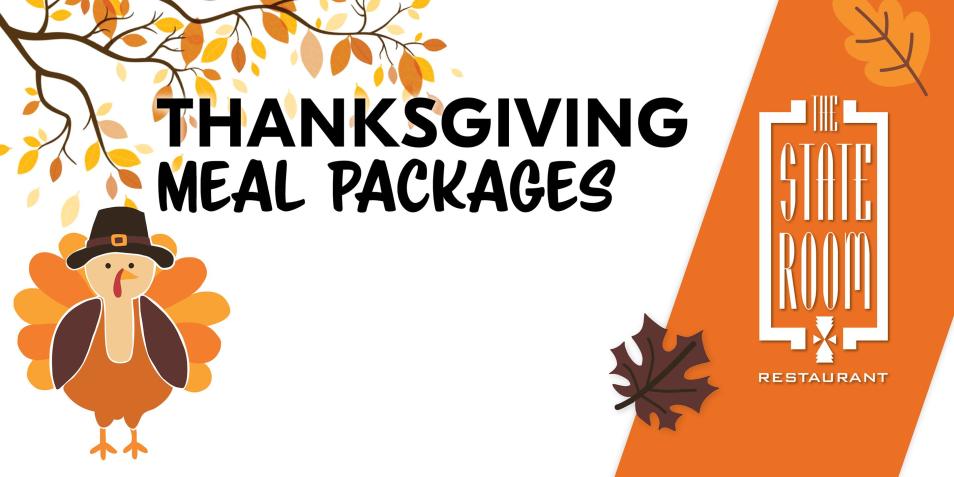 Thanksgiving meal packages can now be ordered online at go.msu.edu/stateroom! We're offering individual meals and a family-style package this year. In addition, guests can select desserts and enhancements, like our Signature Chocolate Cake, Bistro Salad, Rustic Dinner Rolls and more.
Meals are fully cooked, packaged cold, and ready for you to reheat and enjoy! Reheat instructions will be included with your meal package for simple at-home preparation.
Choose a time for curbside pickup on Wednesday, Nov. 24 from Noon-4 p.m. A limited quantity of meals will be offered, so get your order in early to ensure we don't sell out.
5. Mitchell's Fish Market | 2975 Preyde Blvd., Lansing | (517) 482-3474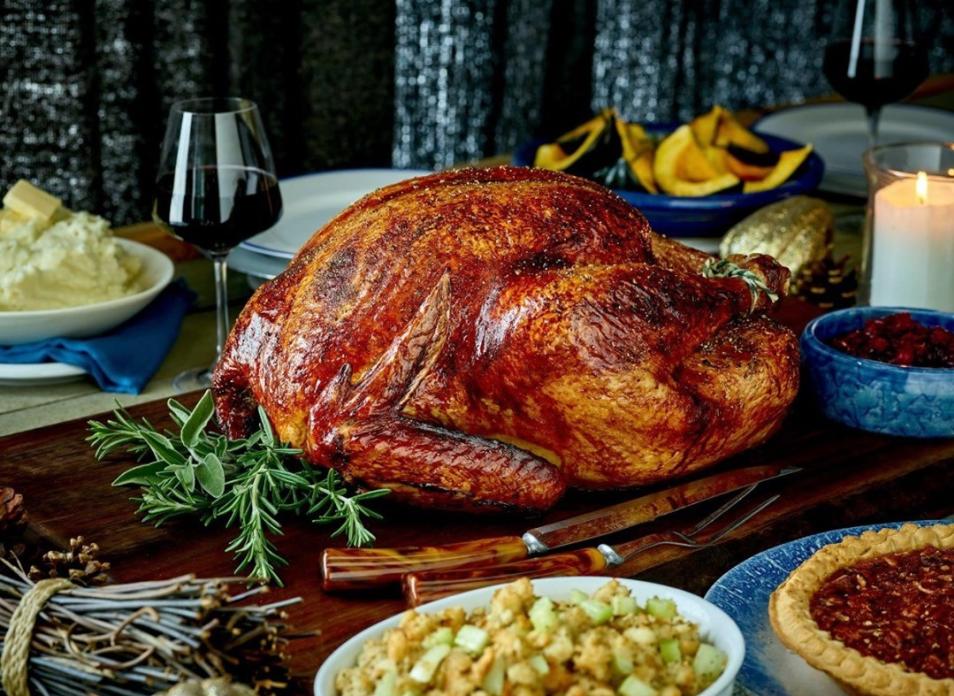 Make (or pick up in this case) a Thanksgiving feast one to remember. Mitchell's full holiday dinner to-go features a delicious sliced turkey breast, savory sides, and decadent dessert, enough to feed the whole family! Just pick up, heat, and enjoy. Call your nearest location to place your order today.
6. Bravo! Italian Kitchen | 2970 Towne Centre Blvd., Lansing | (517) 485-3779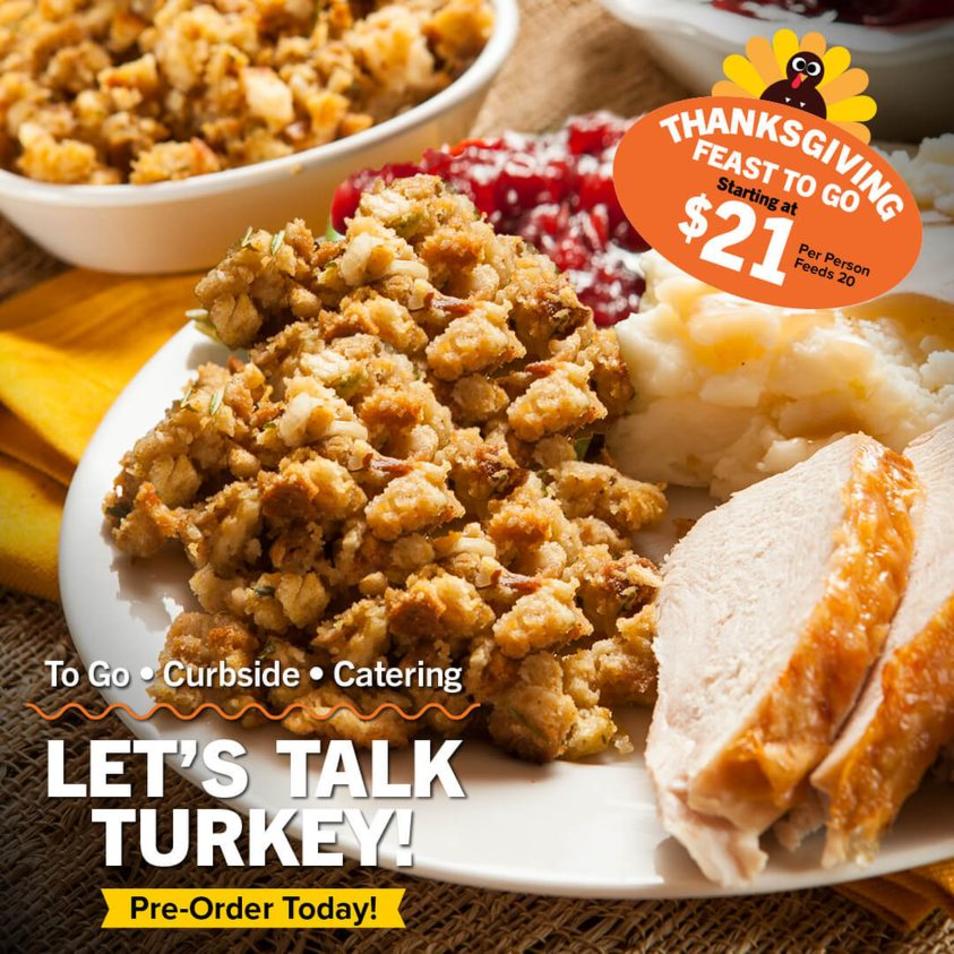 Pre-order a traditional Thanksgiving Feast from Bravo this year, starting at just $21 per person (based on Full Pan, Feeds 20). Click to learn more: https://www.bravoitalian.com/thanksgiving/
7. Falsetta's Casa Nova | 138 S. Waverly Rd., Lansing | (517) 323-9181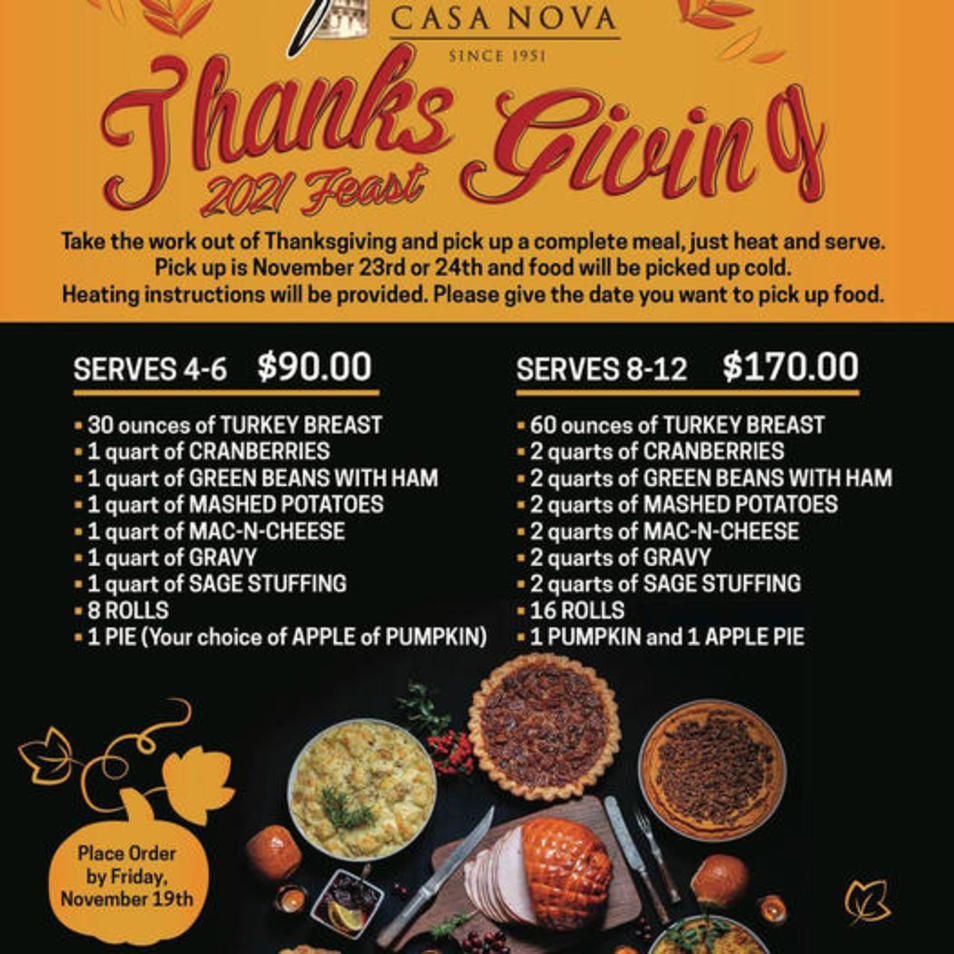 Falsetta's is offering pre-cooked, delicious traditional Thanksgiving meals. Place your order by November 19th! 
Dusty's Tap Room | 1857 Grand River Ave., Okemos | (517) 853-8840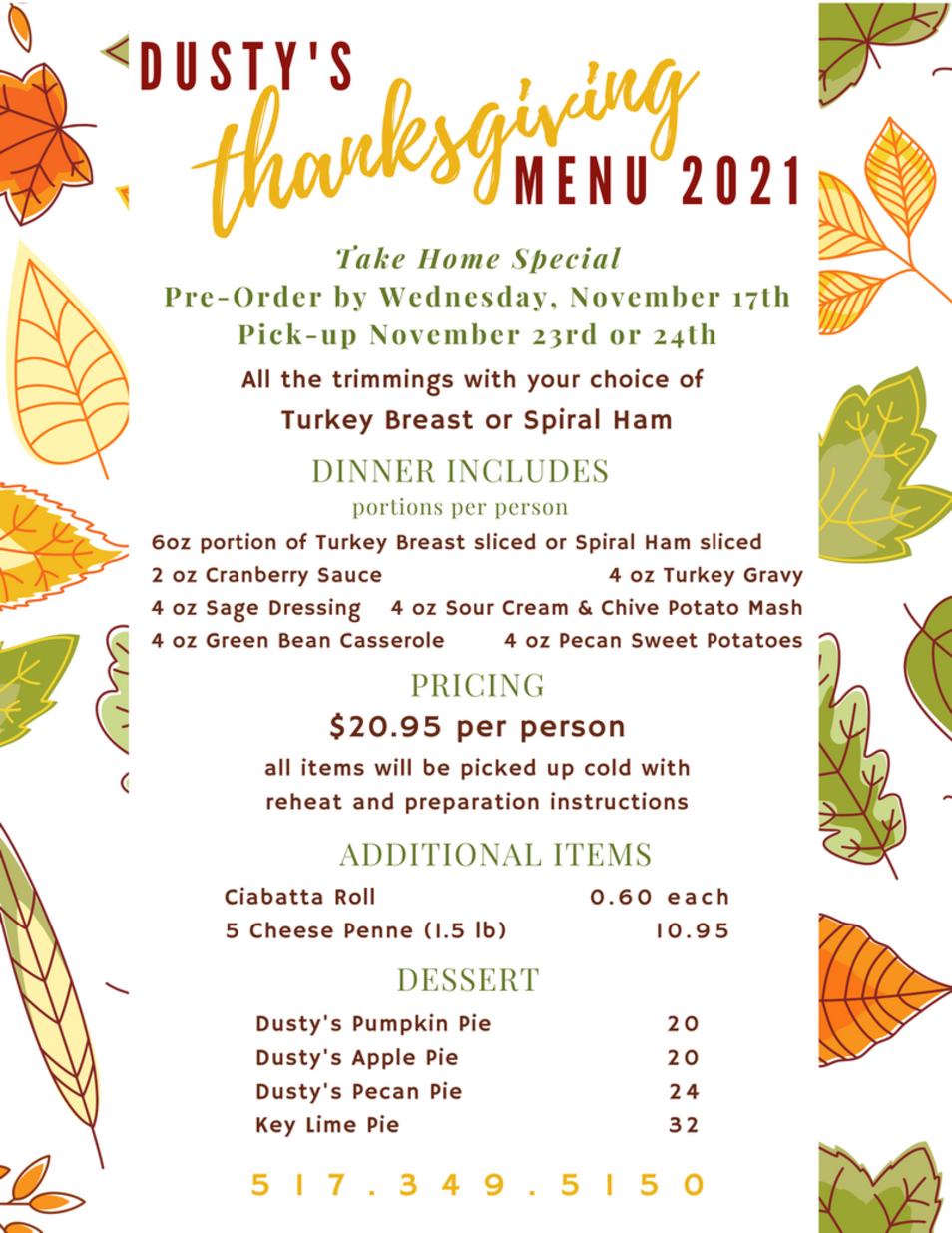 Take home dinners available. Pre-order by Wednesday, November 17th and pick up either November 23rd or 24th. This dinner can be tailored to your number of guests since the dinners are portioned out per person. 
Sides To Go
Social Sloth Cafe | 301 S. Washington Sq., Lansing | (517) 253-0240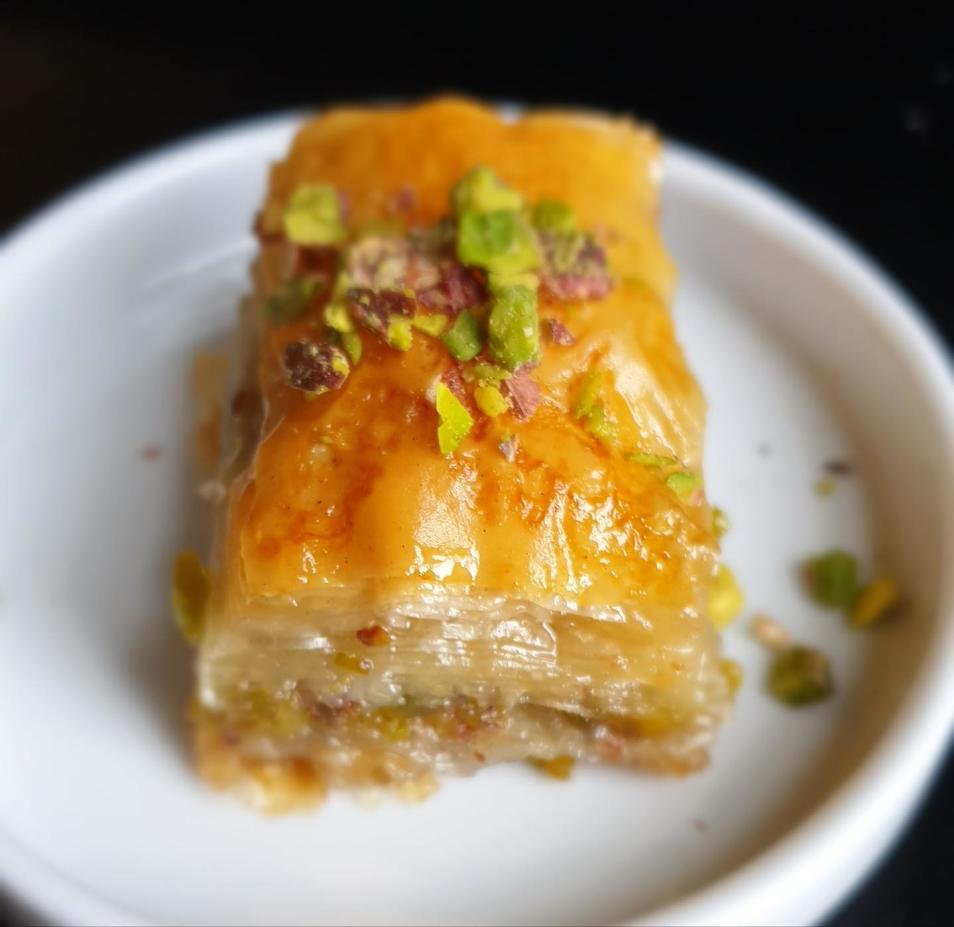 Order some artisan sides for your Thanksgiving.dinner from downtown Lansing's newest restaurant with a Turkish flair.
Choose from or bundle:
Chıcken salad with walnuts
Spinach- feta pie (vegetarian)
Lentil patties (Vegan)
Sultans's Delight
Baklava
Butternut squash with tahini and walnuts (Dessert)
Online order at: https://www.toasttab.com/social-sloth-club-301.../v3...
Also open on Thanksgiving day until 12:30 p.m.
Dine In
Capital Prime | 2324 Showtime Dr., Lansing | (517) 377-7463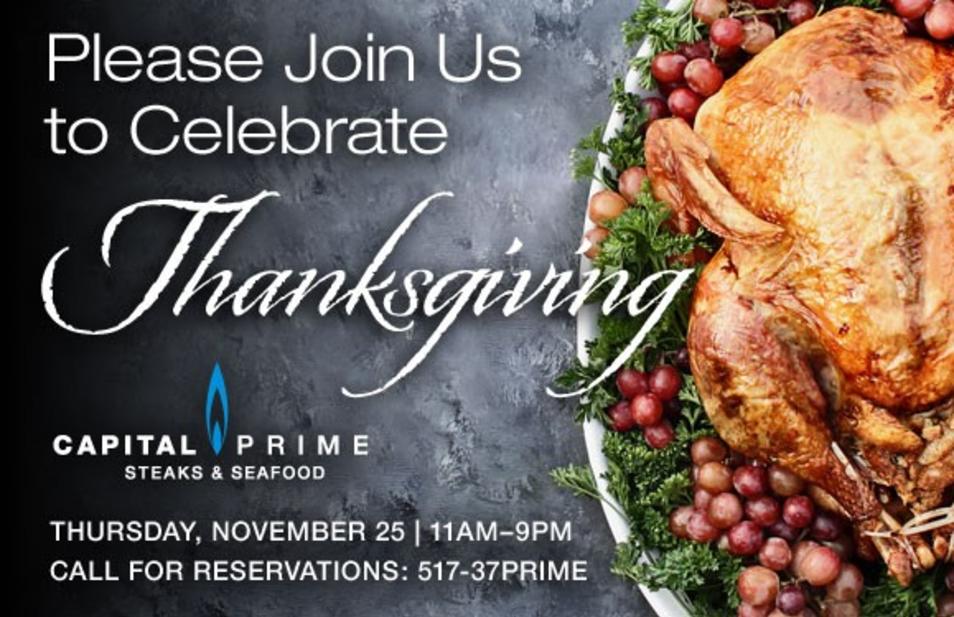 Enjoy the day with a dinner out and leave the clean up behind. Find Thanksgiving Special from 11 a.m.-2 p.m. that include three courses served while the Thanksgiving dinner from 4-9 p.m. will be a limited dinner menu to choose from or the Thanksgiving specials.

Desserts To Go
Sweet Encounters (inside Middle Village Micro Market) | 112 S. Washington Sq., Lansing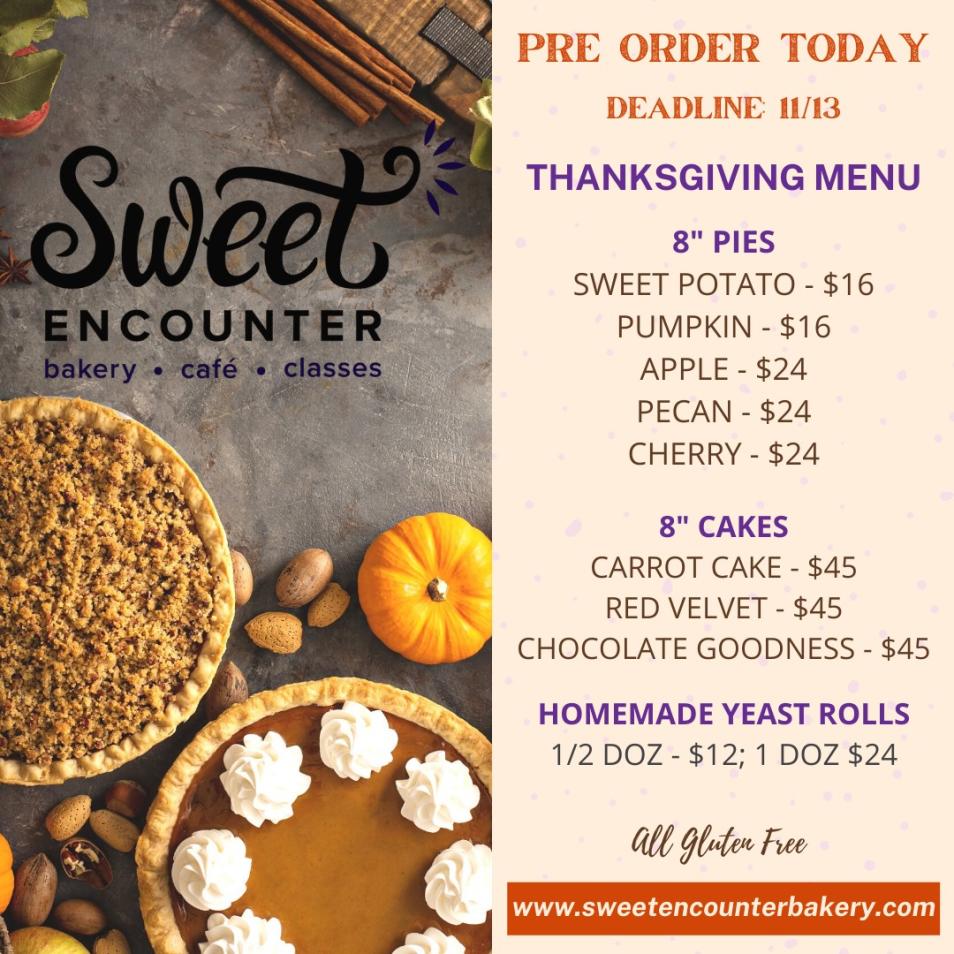 This is the place for your dinner rolls and desserts.
Order deadline is Nov. 13th at www.sweetencounterbakery.com/shop
Order pick up Tuesday, Nov. 23rd 11am - 7pm or Wed. Nov. 22nd 11am - 2pm at Pop Up Store (always make sure to note its located in Middle Village Micro Market.
Choose from Sweet Potato, Pumpkin, Apple Crumble and Cherry pies, dinner rolls and Carrot or Red Velvet cakes.
The deadline to order is Nov. 13th.
Pick up at the Middle Village pop-up store in downtown Lansing on Tuesday, Nov. 23rd or Wednesday, Nov. 24th from 11am - 2pm.
*vegan options available and as always, everything is deliciously #glutenfree
Sweetie-licious Bakery Café | 108 N. Bridge St., DeWitt | (517) 669-9300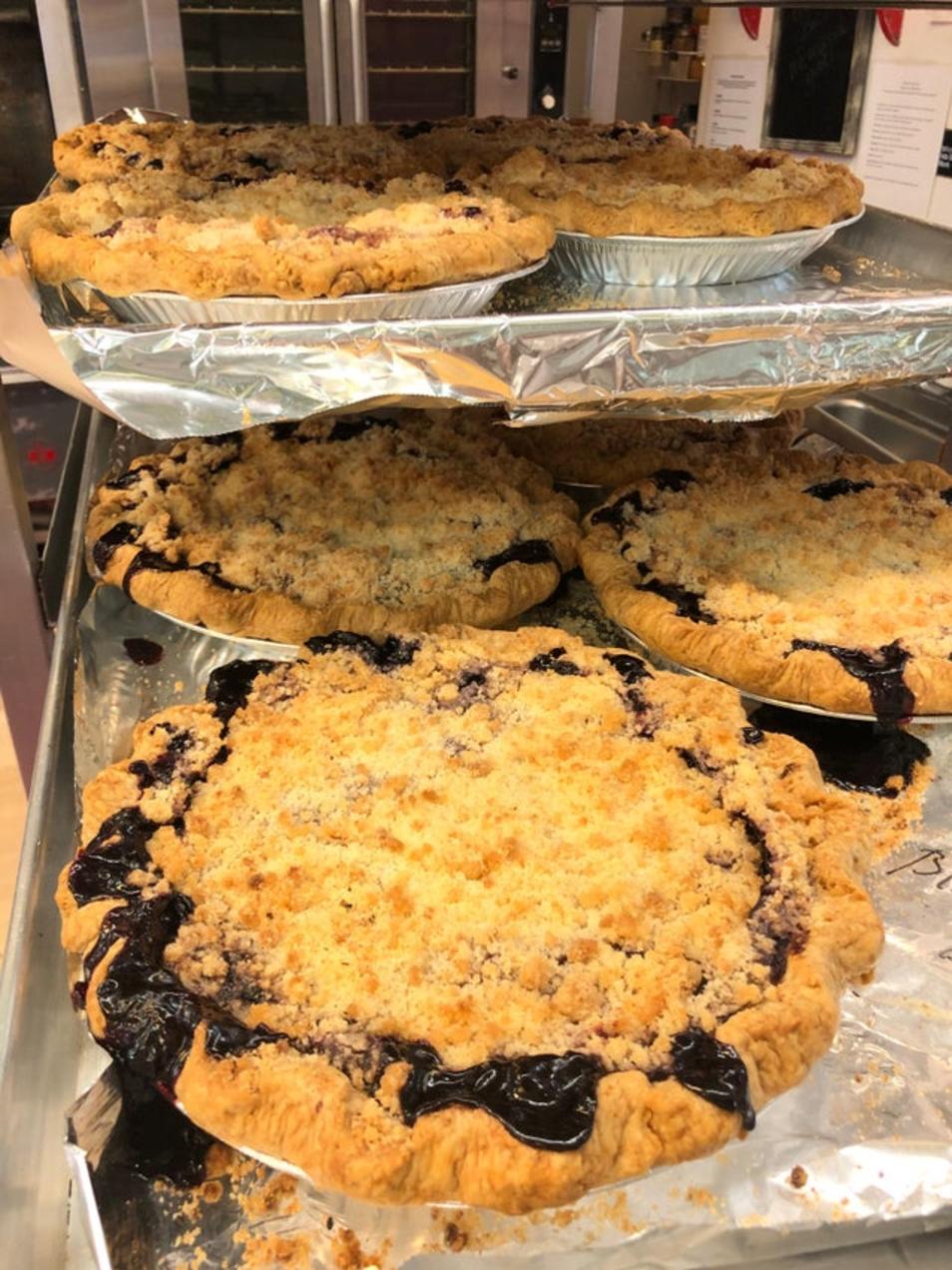 Order online to fulfill all your holiday pie wishes! This year your *online* orders are for Wednesday, November 24th only. If you would like to pick up earlier in the week, please call the café at 517-669-9300 . Happy pie browsing!
Side Note: Social Sloth will be open Thanksgiving Day for their breakfasts. Please call for open and close times.
We're giving thanks for all these delicious options available here in Greater Lansing. #ShopLocal #SupportLocal #LoveLansing #LansingFoodies
Photo credit: Saddleback BBQ, Lil G's, Sweetie-licious Bakery Cafe, Social Sloth, Mitchells Fish Market,