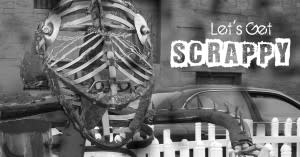 Scrap Fest? What in the world is this Old Town Scrap Fest? First off, because its an Old Town Lansing event, you just know its going to be cool. And secondly, its nothing new. Up until this year, the event has been dovetailed into Festival of the Moon and Festival of the Sun. And it possibly may have been overlooked or overshadowed by that. But Im pleased to see this year it is its very own festival a celebration of repurposed, reused and upcycled scrap materials. The end product sculptures are amazing. And the bidding during the final day auction can get heated. Also this year there will be some scrappy artist booths, interactive art projects and vendors as well as the addition of a beer tent and live music.
Let me tell you how this works by the numbers: Each team of up to 5 people had 60 minutes at one of Lansings oldest businesses and Old Town scrapyard-Friedland Industries to collect up to 500 pounds of scrap and then 2 weeks to create something amazing. The pieces will be exhibited throughout the festival, and then auctioned off on Saturday at 7 p.m. Whether the sculpture will grace your lawn, your garden or your home, you will be guaranteed a one-of-a-kind locally crafted piece of art. And walk away knowing that youve not only benefited a local artist, but contributed tothe Old Town Commercial Association who continues to bring quality, fun, funky and innovative events to this awesome part of Lansing.
Killer Art * Cold Beer * Hot Music
Where? Lot 56 (Cesar Chavez Plaza) in Old Town Lansing
When? Friday July 17 6-10 p.m., Saturday July 18 noon-10 p.m.
More information? http://www.oldtownscrapfest.org/
Did you know that Greater Lansing offers over 150 things to do? With only 48 hours in a weekend, the clock is ticking. Download the LAN150 Bucket List to get started.