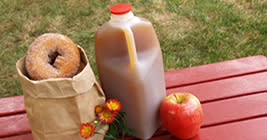 In classic American Midwestern style, the Greater Lansing area knows how to have a good time for Halloween. From haunted houses and corn mazes to apple picking, this is a season that Michigan is known for throughout the nation, and Greater Lansing just does it up right. If you come to Michigans Capital City on the right day, you might see a zombie walk for charity, or dogs dressed to impress as they take their owners for a walk in the evening.
In the charming and rural surrounding communities, warm up with craft brews, small batch spirits, and tasty wines at the growing number of local breweries and distilleries in the area. Its an easy decision to turn off the TV, grab the kids, and get outside. Beautiful fall colors have painted the region's many areas with classic autumn browns, golds, and brilliant reds. Its a phenomenal time to get out and about and spend some time in the Greater Lansing area.
Weve put together a special website featuring all of the opportunities for Fall Fun in the region, so browse these choices and plan your big weekend!