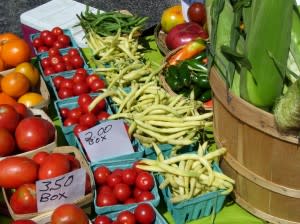 Did you know that Greater Lansing is home to over 20 farmer's markets? While Lansing may be seem to appear very urban, you can find pockets of green wherever you look. From urban gardens within the city limits to the surrounding farming communities and the association with Michigan State University (being the first land grant college in the nation as well as a leader in scientific research in agriculture) its no wonder that farmers markets abound in Greater Lansing.
With over twenty farmers markets in the Lansing area including the year-round offerings of the Lansing City Market, I never have to go far to find local produce. And it seems like almost every day of the week I can hit up a surrounding community or neighborhood market. My favorite things to pick up this time of year are squash, zucchini, tomatoes and fresh bread. Ive learned about mushroom butter, sweet breads, how to cook different types of squash and made a mental note to get to the market early to make sure that they dont run out of the kind of bread that I like best. But on the other hand, if I show up later, they may have marked some things down and I do love a bargain.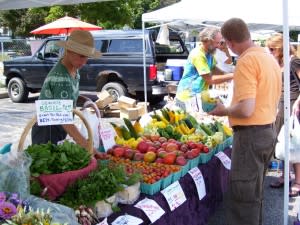 Im lucky to live in one of the Eastside neighborhoods and within a short walk to the Allen Street Farmers Market which is every Wednesday from 2:30-7 p.m. Theres always some type of performance that I can enjoy as I wander around and chat and catch up with neighbors. Last year was the first year that the market moved indoors and continued during the cold weather months as well as serving as a food hub for local restaurants.
I think the thing that I like best about farmers markets in general is the laid back and friendly atmosphere. You are not bombarded with slick advertising or pushy people. It encourages questions and conversations. Heck, if I dont know what something is, I ask. And the vendors share tips and meal suggestions which is something that I desperately need. Its an organic thing, natural and easy. What a beautiful and rich component these markets add to Greater Lansing.
And I would be remiss if I didn't mention the very popular Farmer's Markets at the Capitol. Just a few times a year, booths are set up on the lawn of the State Capitol.Dates for the 2014 Farmers Markets at the Capitol are Thursdays, July 31, August 28 and September 25. The events will be held from 10:00 a.m. to 3:00 p.m., rain or shine.