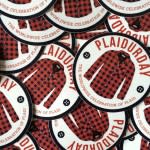 Once reserved for Scottish clan kilts, tartan (also known as plaid,) is a fabric design that was woven into alternating bands of colors that are both horizontal and vertical and when crossing, create a whole new color. Native dyes that were readily accessible to each region would result in different color combination. And within those regions, different patterns were established for each clan. That was forever ago. Now you can find plaid lunchboxes, cell phone cases and pretty much everywhere. For whatever reason, plaid in current fashion seems to have come and gone. Even the status staple Burberry plaid seems to be fading even though a few years ago thats the predominant plaid thatyou would see.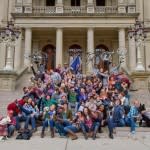 Here in Lansing we are bringing plaid back. Well, at least for a day. Welcome Plaidurday, an annual worldwide celebration on the first Friday in October where everyone is encouraged to wear plaid in any way, shape or form. This is the brainchild of a man named Bugsy, who lived in our capital city, and seemed to have nothing BUT plaid in his closet. Poor guy apparently was mocked by his co-workers relentlessly so he turned the tables and created at event. Hurray for the underdog making lemonade out of lemons. Me? I always root for the underdog, so my love of Plaidurday knows no bounds. Plus my Scottish great grandmother Emma Kerr would be proud. So next Friday, October 3rd all you need to do is wear plaid. Thats it. If youre in town, and sporting your plaid, you can join us at Cooley Law School Stadium for a Lansing group photo at 5 p.m.
What: Plaidurday The Worldwide Celebration of Plaid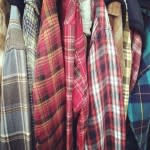 When: Friday, October 3, 2014 all day
Why: Because its fun and we all need a little fun in our lives.
All the information youll ever need to know about Plaidurday: http://plaidurday.com/
From Wikipedia: Tartan is a pattern consisting of criss-crossed horizontal and vertical bands in multiple colours. Tartans originated in woven wool, but now they are made in many other materials. Tartan is particularly associated with Scotland. Scottish kilts almost always have tartan patterns. Tartan is often called plaid in North America, but in Scotland, a plaid is a tartan cloth slung over the shoulder as a kilt accessory, or a plain ordinary blanket such as one would have on a bed.