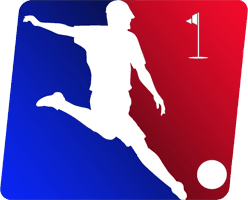 Summer may be winding down but we still have a lot of great weather left for outdoor sports in Greater Lansing. What does that mean for you? Are you involved in an outdoor sport? If you're an adult, that sport is most likely golf. That seems to be about the most socially acceptable sport for adults. You get to a certain age and guys dont get together at the park for basketball anymore. Kind of sad So, okay, yes, there is golf. But maybe you're burned out on golf for this year, or you're not a huge fan of the links? Maybe you'd rather play a sport thats a bit less precise but still a ton of fun? I think I might have the sport for you, and yes, of course, you can play it right here in Greater Lansing.
FootGolf is a combination of the popular sports of soccer and golf. The game is played with a regulation #5 soccer ball at a golf course facility on shortened holes with 21-inch diameter cups. The rules largely correspond to the rules of golf. The best place to play foot golf around here is at the Falcon, one of the Hawk Hollow properties.
FootGolf as a game is played throughout the world in many different forms, but as a sport, it is regulated by the Federation for International FootGolf (FIFG). The American FootGolf League (AFGL) is the exclusive member of the FIFG and governing body for the sport of FootGolf in the United States. The AFGL is organizing tournaments throughout the country working with golf courses to bring FootGolf to their clubs as another avenue for revenue and to develop the game further.
Sometime soon get your friends together but leave the clubs at home. Instead, pull your cleats out of the closet. This game deserves a shot.
Address: 555 Quarterhorse Rd., East Lansing, MI 48823 Telephone: (517) 371-3484